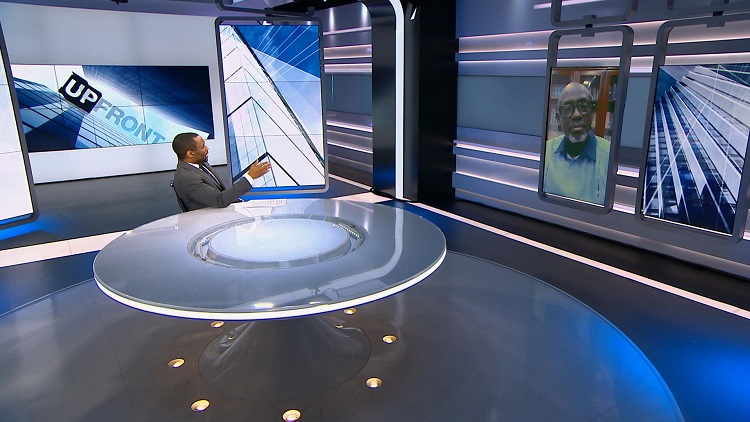 Rwanda's Minister of Justice, Johnston Busingye, tells UpFront Rwanda paid for plane that transported Paul Rusesabagina to Kigali
In an interview with Al Jazeera English's UpFront, Rwanda's Justice Minister, Johnston Busingye, admitted that the Rwandan government paid for the plane that transported Paul Rusesabagina from Dubai to Kigali.
"The government paid," Busingye told UpFront host Marc Lamont Hill.
"There is a person who was operating with Rusesabagina for a long time, who was an interest of our public criminal investigation department, who accepted to turn him in and the payment was to facilitate the plan of this man to transport Rusesabagina to Rwanda," he added. "The government did not play a role in transporting him. It was facilitating this gentleman who wanted to bring him to Rwanda."
Busingye said the Rwandan government had acted legally when it duped Rusesabagina, a Belgian citizen and US resident, into boarding a plane to Kigali.
"In international criminal law, luring people into places where they can be brought to justice has happened and happened in many jurisdictions," he said.
When asked if it was legal for the Rwandan government to pay for a plan to bring Rusesabagina, a Belgian citizen and US resident, to Kigali against his will, Busingye said, "Yes it is."
Human rights organisations, members of the U.S. Congress and the European parliament have described Rusesabagina's rendition to Rwanda as illegal under international law and called for his immediate release.
Rusesabagina gained international fame when the story of how he saved more than 1,200 ethnic Tutsis during Rwanda's 1994 genocide inspired the Hollywood film 'Hotel Rwanda'. In August 2020, Rusesabagina mysteriously disappeared in Dubai and showed up in handcuffs in Kigali a few days later in what his family described as a kidnapping. Paul Rusesabagina is currently standing trial in Rwanda on terrorism charges.
His family says the charges are fabricated and that Rusesabagina has been denied access to international lawyers.
After a first interview with Minister Busingye, a video of the minister preparing for the interview with two public relations consultants from the British firm Chelgate was inadvertently shared with the UpFront team.
In the footage, Minister Busingye acknowledges that the Rwandan prison authorities have intercepted correspondence between Rusesabagina and his lawyers. 
"There was a particular document which actually suggested escape, which came from a child of Rusesabagina all the way to him, suggesting that they were being engaged on a possibility of getting him to escape. That one was found by the prison authorities but it was also handed back to Rusesabagina," Busingye says on the recording with his PR consultants.
In a first interview with Al Jazeera's UpFront, Mr. Busingye denied that prison authorities had access to the exchanges between Mr. Rusesabagina and his counsel. "He has private communication," he said.
Upon reviewing the footage, UpFront asked Busingye to be interviewed a second time to clarify the apparently contradictory statements he made.
In this second interview, the minister defended the right of prison authorities to monitor correspondence between Rusesabagina and his legal counsel for security purposes.
"The correctional services is an autonomous institution. It does its job of safety and security. Once that is done they do not have any power to divulge what they see," Busingye said.  
When asked if he'd been given access to private communications between Rusesabagina and his counsel, Busingye said, "yes, of course."
"I said legal documents, communication between lawyer and client is protected. And I repeat that again," he added.