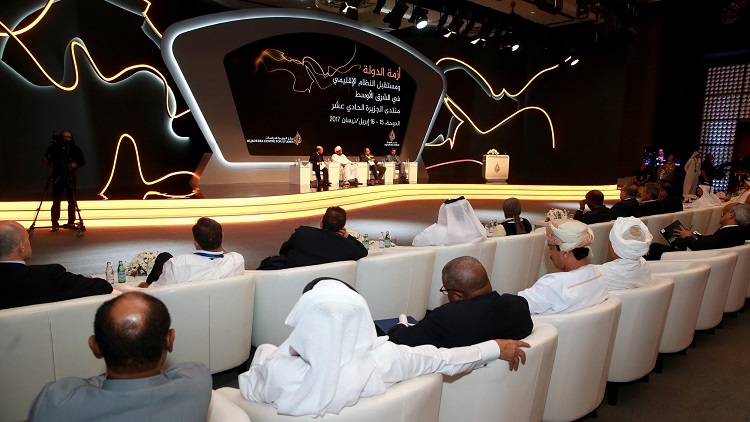 The 12th Al Jazeera Forum ​
Info
Al Jazeera Centre for Studies (AJCS) is organising the 12th Al Jazeera Forum this year under the title, "The Gulf, the Arabs and the World amid Current Developments". The forum will be held in Doha on the 28th and 29th of April 2018 and will be attended by intellectuals, politicians, journalists and decision makers.
The forum's sessions will comprise discussions about the aftermath and future of the Gulf crisis; the course of Iranian-Gulf relations between cooperation, competition and confrontation; and the fate of the Arab situation amid rising levels of popular protests resulting from deteriorating economic, social and political conditions after the return of counter-revolution forces to power in the countries of the Arab Spring.
This year, the forum will also dedicate sessions and discussions on the future of the Palestinian cause following Donald Trump's announcement of Jerusalem as the capital of Israel and his intention to move the U.S. embassy to the holy city.
Furthermore, participants in the forum will discuss the role of the media in times of crisis and political transitions, especially due to its increasingly important role in mobilising people and affecting public opinion.
According to the forum's concept note, there are important questions that the forum aims to address, including: Is there a relationship between the raging conflict over the future of the Arab region since 2010 and the Saudi-Emirati blockade on Qatar? What future can we anticipate for countries that lived through war and division during the past few years such as Iraq, Syria, Yemen and Libya? Has the Palestinian cause returned to its traditional position as a determinant of the region's policies and relations? What do the United States, Russia, China and the main European countries seek to achieve in the east? What effects do current Turkish and Iranian policies have on the stability and future of the region and the relations between its peoples? What can we make of the role of the media and its link to the developments taking place in the region and beyond?
Al Jazeera Forum is the largest research and media event organised by the Al Jazeera Network. Its aim is to provide a platform for the discussion of important political and strategic variables that shape the Arab world and the Middle East. It also seeks to bring together journalists, researchers, experts and decision makers from different parts of the world to exchange their ideas and opinions in open discussions.