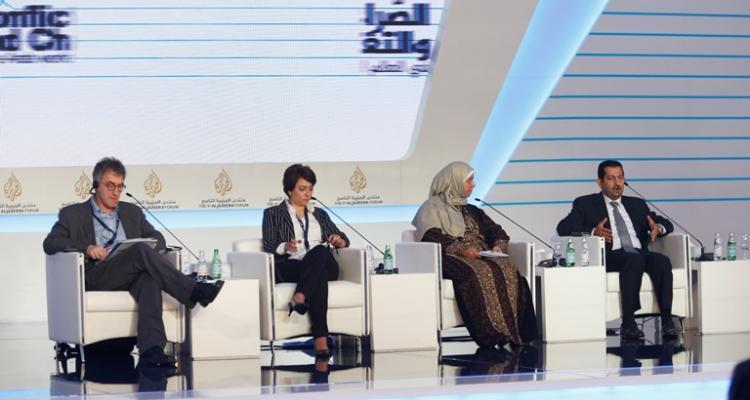 Forum News: The Role of Media in Conflicts
Info
In response to a question on professionalism and neutrality in media coverage, director of Al Jazeera News Channel Yaser Abuhilalah stated, "Al Jazeera News Channel channel's experience is par excellence. This is one of the reasons for its success and vast popularity. However, this coverage is faced by great difficulties and challenges, the most prominent of which is timing. The field reporter is responsible for answering the audience's numerous questions in a fast, honest, and neutral manner. This is a difficult process."
Former Yemeni Information Minister Nadia al-Saqqaf talked about her experience with the media after Houthi rebels seized control of state-owned media outlets and discussed how she used social media to communicate with the external world. She suggested that traditional media be integrated into digital media, and that new standards be introduced to organize media work.
Syrian activist and blogger Razan Ghazzawi pointed out that both the Syrian regime and the armed groups put restrictions on the citizens. She mentioned the role of traditional media in providing a platform for the commanders and members of the armed groups.
Middle East editor of The Guardian Ian Black, however, described media work amid conflicts as extremely difficult. He urged media institutions to consider how to cover these conflicts. He also acknowledged the difficulty to maintain objectivity in covering conflicts, suggesting that the best way to ensure commitment to press standards in conflicts is to keep an equal distance from all parties.