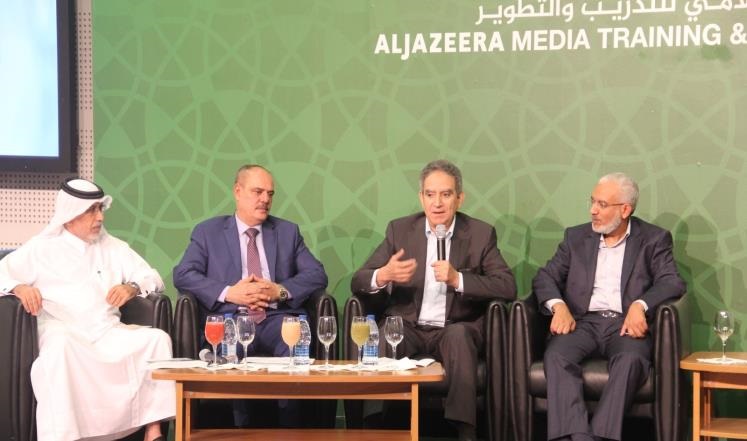 Symposium on Media Freedom and Right to Access to Information
Date and Time
28 Sep 2016
Info
Al Jazeera network staff joined officials from journalist unions and UN bodies to discuss practical ways to foster better respect and protections for journalists. The symposium was organised by the Al Jazeera Centre for Public Liberties & Human Rights to mark 'International Right to Know Day' on 28th September. 
With a particular focus on the Arab world, the panel called on governments to facilitate access to information rather than attempting to block investigations. Speakers also encouraged media institutions and individual journalists, as well as organisations concerned with press freedom, to sign up to the International Declaration to Protect Journalists (IDPJ). The event was also broadcast live on Al Jazeera Mubasher. 
Al Jazeera's acting Director General, Dr Mostefa Souag, warned that press freedom in the Arab world was regressing. He said although many journalists acted in a professional manner, sacrificed their time and sometimes their safety to do their jobs, but obstacles were regularly placed in their way. Dr Souag said there was a prevailing culture among regimes to prevent access to information, but that this approach was foolish, since the advent of new media had made it much easier for the public to access information regardless of their attempts to block it.
Moaid al-Lami, an executive member of the International Federation of Journalists and Director of the Iraqi Journalists' Syndicate, also pointed out that with leaks and modern technology, the public now had access to documents which were previously exclusively available to security officials. He said attempts by governments to control the media was likely to backfire.
Sami Alhaj, Director of the Al Jazeera Centre for Public Liberties and Human Rights, said the centre had been working on International Declaration to Protect Journalists for the past year. The declaration, he said, represented hope for journalists and future generations that information could be conveyed in a safe environment. The declaration was absolutely necessary based on the harsh realities that journalists are facing on a daily basis. He added that the declaration had already received thousands of signatures from journalists, media organisations and NGOs, as well as support from UNESCO and within the UN. The next step was to gather official support from nation states who would then present it to the UN general assembly.
Dr Hassan Elmogummer, head of Partnerships and Research at the PLHR Centre, said the declaration represented all journalists, as organisations and individuals, and that all should work together to get it adopted. He said Al Jazeera was keen to work with all other networks to force governments to respect the rights of journalists, and already had 200 media organisations interested in the initiative.
Dr. Obaid Ahmed Al Obaid, Director of the United Nations Human Rights Training and Documentation Centre for Southwest Asia and the Arab Region, added his support for the declaration. He said it built upon existing legal protections for journalists, who are considered civilians in conflict areas, and took them one step further towards implementation. He said a champion state was needed to take the declaration forward and propose it at the UN general assembly.
Anna Paolini, Director of the UNESCO Regional Office in Doha, said ten years ago the issue of protecting journalists wasn't even on the agenda, so progress was now being made. She said the general assembly had adopted a plan of action for the safety of journalists. Paolini said UNESCO was working closely with all stakeholders, including governments and media organisations to push for the implementation of journalist protections.
Jaber Al Harami, Editor-in-Chief of Al Sharq newspaper, said the Arab League had failed to take any action to protect journalists. He said many regimes considered independent journalists as their prime enemy. He called on media organisations to work together to prevent attacks on journalists and to restore respect for their profession in the Arab world.
Ayman Gaballah, Managing Director of Al Jazeera Mubasher, said journalists expected more than just words from the United Nations. He said the United Nation must implement protections for journalists and change the current situation. Al Jazeera was at the frontline of change in the Arab world, and now it wants to lead the push for press freedom in alliance with other networks, he said.