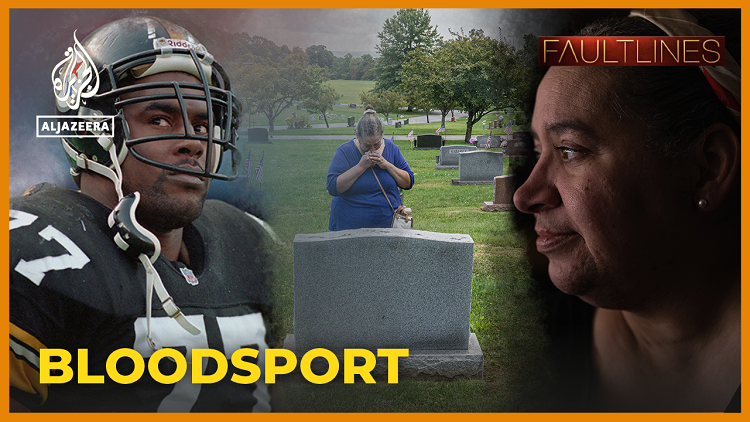 Al Jazeera English's Fault Lines Investigates the NFL Concussion Settlement
Published on:
16 Nov 2022
Today, Fault Lines, Al Jazeera English's award winning documentary programme, is releasing a new investigative episode, Bloodsport, about how the National Football League has largely escaped accountability for the ongoing crisis of the brain disease CTE among its current and former players. In an NFL season where player safety is front page news given Miami Dolphins' quarterback Tua Tagovailoa's return to play after suffering major concussions in consecutive games, Bloodsport examines how the NFL has avoided liability for CTE, which scientists believe is caused by repeated head trauma endemic to the game.  Our investigation shows that while the NFL has promised to compensate former players suffering from the effects of CTE, it has deliberately reneged on this promise, which according to an advocate for retired players has saved the NFL as much as $7 billion in liability.
 
Bloodsport tells the story of former NFL player Carlton Haselrig, who suffered for years with the symptoms of CTE. Through interviews with his widow, Michelle, we learn about his struggle to receive compensation from the NFL concussion settlement. Carlton was an All-Pro offensive lineman for the Pittsburgh Steelers and New York Jets from 1989 to 1995. He was 54 when he died in July 2020 of liver cirrhosis and with a brain racked by dementia and delusion. Michelle documented the last months of her husband's life, which is excerpted in this documentary, and presents a window into the horrors for former NFL players and their families battling brain disease. 
 
Believing he had CTE, Carlton applied for an award from the NFL concussion settlement in 2017 but his claim was denied. After he died, it was revealed that Carlton was among the thousands of former Black NFL players who were 'race-normed' by the NFL concussion settlement. Race was used as a factor in the settlement's medical evaluations, with the effect of making it more difficult for Black players to qualify for money from the NFL. . When Fault Lines asked a neuropsychologist to re-score Carlton's tests as if he were white, he found that Carlton was, in fact, severely impaired and would have qualified to receive an award from the NFL.
 
Dr. Charles Golden, a neuropsychologist and former NFL-paid doctor turned whistleblower, tells Fault Lines that the NFL concussion settlement was never about helping former players like Carlton but "about limiting the NFL's exposure to liability." Dr. Golden also alleged that the NFL put pressure on doctors to change their diagnoses of retired players hoping to qualify for an award from the NFL concussion settlement.
 
In the last year, the NFL vowed to end the practice of race norming and said it would re-evaluate the claims of retired Black players who were race-normed. But Fault Lines found that neither Michelle nor any of the retired Black players we spoke to in reporting this story have received notification from the NFL about their claims being re-evaluated. Michelle, who depended on Carlton's pension from the NFL, has been bankrupted by his death and is on the verge of losing her home.