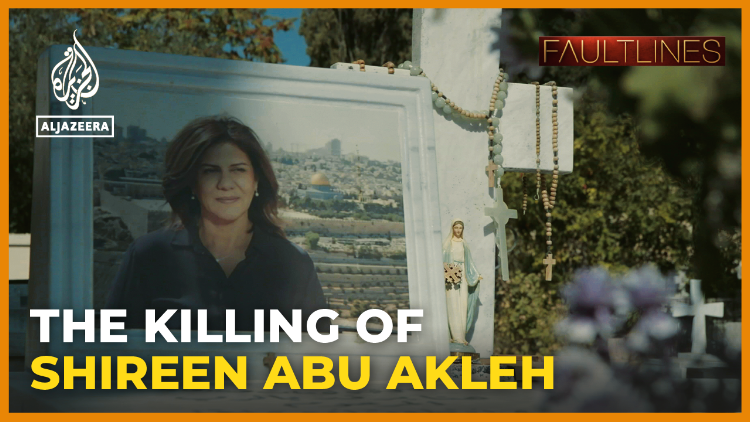 Al Jazeera English's Fault Lines Releases Film on Killing of Shireen Abu Akleh
Published on:
01 Dec 2022
Today, Fault Lines, Al Jazeera English's award-winning documentary programme, is releasing a new documentary, The Killing of Shireen Abu Akleh, about the May 11 shooting death of the veteran Palestinian-American Al Jazeera journalist by an Israeli sniper in the occupied West Bank city of Jenin. 
Through powerful interviews with eyewitnesses, the film gives a forensic accounting of the events that preceded the shooting and what followed. At least six independent investigations into Shireen's killing, including one by the United Nations, have concluded, that the journalists were fired on by Israeli forces shortly after arriving at Jenin refugee camp. Wearing helmets and blue vests with the word "PRESS" they were clearly identifiable as journalists.  
Shireen was also a U.S. citizen which has put sharp focus on how the United States has responded to the killing. While the Biden administration has expressed confidence in Israel's investigation, Fault Lines raises serious questions about it, revealing that key eyewitnesses were not interviewed by the Israeli military. Furthermore, while Israel has claimed that Shireen was killed in the crossfire between Israeli forces and armed Palestinians, this is contradicted by video footage from the scene. Fault Lines Correspondent Sharif Abdel Kouddous pressed officials from the State Department and White House about how they could continue backing Israel's conclusions based on these contradictions.
"These sham investigations are a legal Iron Dome to protect Israeli soldiers from potential international legal consequences," Hagai El-Ad, the executive of the Israeli human rights group B'Tselem, told Fault Lines. "They're trying to block the path for international jurisdiction, and they're trying to win the public relations game." 
The Killing of Shireen Abu Akleh also spotlights the results of a ground-breaking joint investigation by Forensic Architecture and the Palestinian human rights group Al-Haq, which concluded that the journalists were repeatedly and deliberately targeted by Israeli forces. Their digital reconstruction of the shooting showed that the Israeli sniper repeatedly fired at whoever was in his line of vision, including Shireen, her colleague Ali Al-Samoudi, journalist Shatha Hanaysha and Sharif al-Azab, a civilian who tried to help. 
The film features an interview with U.S. Senator Chris Van Hollen, who has pressed the Biden Administration to open an independent and transparent investigation into Shireen's killing. Interviewed prior to the news that the FBI had begun a probe of the shooting, Van Hollen told Fault Lines he did not believe the administration had upheld their duty to Shireen. "I believe, and many of my colleagues believe, that we have to get to the bottom of this and it cannot be swept under the rug," he said.
Through interviews with Shireen's family and colleagues, the film demonstrates Shireen Abu Akleh's stature and her important legacy for journalists, Palestinians, and millions of viewers around the world. "She was able to deliver the suffering and the narrative, the voice of the Palestinian people," said her brother Anton Abu Akleh. "I still hear it every day, 'We grew up watching Shireen.'" 
"Shireen still has a presence, not only among those who shared her last moments," her colleague in Jenin, Mujahid al-Saadi said. "Shireen is present among everyone."