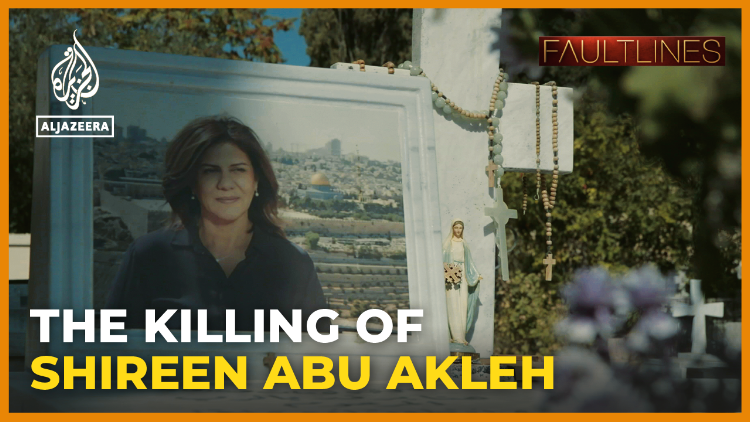 George Polk Awarded to Al Jazeera English Fault Lines: The Killing of Shireen Abu Akleh
Published on:
20 Feb 2023
Al Jazeera English's current affairs programme Fault Lines has won a George Polk award, in the category of Foreign Television Reporting, for its short news documentary, The Killing of Shireen Abu Akleh. The film detailed the killing of the renowned Al Jazeera correspondent by Israeli forces on May 11, 2022. This is the second George Polk Award for Al Jazeera English. In 2012, the Network won for the film "Bahrain: Shouting in the Dark."
 
The news report gave a forensic accounting of the events that preceded and followed the shooting, utilising interviews and eyewitness accounts. Multiple independent investigations into Abu Akleh's killing, including one by the United Nations, concluded that journalists were fired on by Israeli forces shortly after arriving at Jenin refugee camp in the occupied West Bank. They were shot at despite wearing helmets and blue vests with the word "PRESS," that clearly identified them as journalists.
 
In the film, the team pressed the Biden administration on the lack of accountability in the killing of Abu Akleh, who was a U.S. citizen. The Fault Lines team revealed that key eyewitnesses were not interviewed by the Israeli military, raising serious questions about the strength and fairness of the Israeli investigation into Abu Akleh's killing, and pressed U.S. administration officials on why they have supported the Israeli investigation despite its discrepancies.
 
Laila Al-Arian, Fault Lines Executive Producer, said in a statement: "We are so grateful to the George Polk Award judges for their recognition of this film and the immense influence and inspirational legacy that Shireen Abu Akleh left through her journalism, both for Palestinians and millions of viewers around the world."
 
"It is an immense honour to receive the George Polk award," the film's Senior Producer Kavitha Chekuru said. "Our whole team worked hard to investigate the killing of Shireen Abu Akleh and we hope this award, which we are deeply humbled to receive, will help in the search for accountability and justice."
The team that worked on the documentary was comprised of Executive Producer Laila Al-Arian, Senior Producer Kavitha Chekuru, Correspondent Sharif Abdel Kouddous, Editor Adrienne Haspel, Director of Photography Singeli Agnew, and Palestine Producer Ayman Abu Ramouz.
 
Fault Lines is Al Jazeera English's main documentary programme that is focused on the United States and its role around the globe.
 
The George Polk awards, presented by Long Island University since 1949, are released annually to honour "excellence in print and broadcast journalism" and reporting that is "original, resourceful, and thought-provoking".