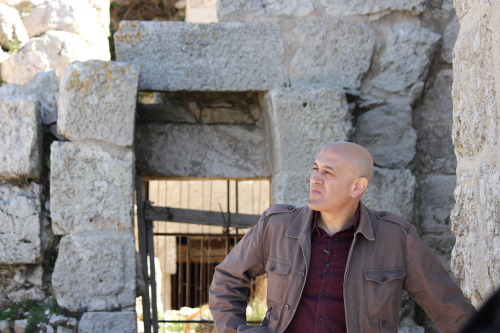 'Science in a Golden Age' reveals how medieval Islamic thinkers have influenced modern day science
Published on:
24 Sep 2015
Iraqi-born theoretical physicist and broadcaster, Jim Al-Khalili, hosts this series which launches on Monday 5th October at 2230GMT.
Over six half-hour episodes, Science in a Golden Age takes a fascinating journey back through time to unravel the links between cutting edge scientific developments and the unsung inventors and experimenters of the past. Newton, Galileo and Copernicus dominate as key figures in scientific discovery, however, this series celebrates lesser known, but no less important characters. Men such as Ibn Sina, Al Haytham and Al-Razi who were pioneering revolutionary new ideas between the 9th and 14th centuries. Travelling to Jordan, Turkey and Qatar, Al-Khalili uncovers artefacts and influential manuscripts relating to these scholars, and also recreates some of their ingenious experiments.

In Optics which launches the series on 5 October, Al-Khalili visits SESAME the state-of-the-art giant particle accelerator in Jordan, and devotes special attention to one scientist in particular – Baghdad-born Ibn Al Haytham, whose book 'Kitab al Manazir' is often cited alongside Isaac Newton's 'Principia Mathematica' as one of the greatest physics textbooks ever written. Through these explorations into Ibn Al Haytham's scientific legacy, it becomes clear why Al-Khalili regards him as the 'Father of Optics'.

The second episode Astronomy on 12 October sees Jim Al-Khalili uncovering the 9th century map of the world commissioned by Caliph Al Ma'mun, examining the Museum of Islamic Art's collection of astrolabes and revealing how Renaissance scientist Copernicus incorporated key elements of Persian astrologer Al Tusi's scientific observations into his work.

Mathematics is the topic of the episode on 19 October and explains how the modern numeric system as well as algebra were developed and popularised to a considerable degree by Persian mathematicians such as Al Khwarizmi. Many of the great achievements of modern science would not have been possible without this mathematisation of science and there's even a link to computer encryption through the world's earliest code breaker, Al Kindi. 

Automation and robotic devices are investigated in the fourth episode, Engineering on 26 October. From the Iraqi Banu Musa brothers of the 9th century, to the Andalusian engineer Abbas Ibn Firnas, to Al Jazari who lived and worked in the 12th century – Al-Khalili guides us through the work of the engineers and innovators of the Golden Age of science (9th- 14th centuries).

In a time when mysticism and sorcery were used to explain complex chemical processes and reactions, scholars like Jabir ibn Hayyan and Al Razi started to apply a rigorous scientific approach to their observations of the world around them. Chemistry, the fifth episode on 2 November explores how this evidence-driven, experimental approach transformed the superstition of alchemy into the science of chemistry.

Medicine, the final episode in the series airing on 9 November, explores state-of-the-art biomedical science and uncovers the contributions made to the field by medieval scholars from the Islamic world. The episode introduces the work of Persian physician Al Razi, 10th century philosopher and physician Ibn Sina and the 13th century Arab medic Ibn Al Nafis. Modern practitioners of medicine – heart surgeon Dr. Magdi Yacoub and Prof. Khaled Machaca of the Weill Cornell Medical College in Doha - share their thoughts.
                                                        - ends -