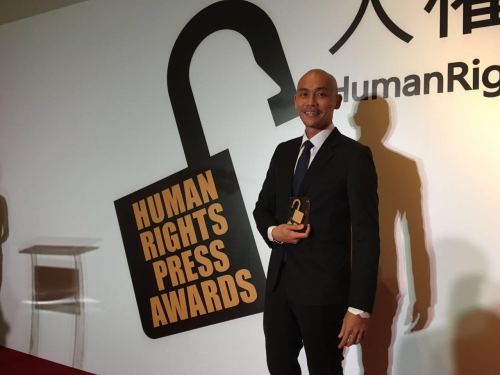 101 East wins Human Rights Press Award
Published on:
09 May 2016
Al Jazeera's Asian current affairs programme 101 East has won a Human Rights Press Award for "Sabah's Invisible Children" for outstanding reporting on human rights issues. 
The film is an investigation into stateless children in Sabah, Malaysia, who spend their lives on the run from authorities in the Malaysian state of Sabah. 
"Al Jazeera English is delighted to have won a Human Rights Press Award for its reporting on the stateless children in Sabah, Malaysia," says Giles Trendle, AJE's acting Managing Director and Director of Programs. "These awards recognize top rights-related reporting and their goal is to increase respect for people's basic rights and to focus attention on threats to those freedoms. Those are values which fit well with our mission at Al Jazeera."
Senior Reporter Chan Tau Chou collected in the awarding ceremony held in Hong Kong. Chou commented on the occasion saying "It is a real honour to have our work recognised but our greatest wish is for these children's rights to improve and for them to remain invisible no more. Thanks to all the 101 East team who helped bring this story to light".
The team produced the story consisted of Chan Tau Chou, Senior Reporter; Sarah Yeo, Producer;  Lee Ali, Director of Photography ; Badrul Hisham, Editor; and Sharon Roobol, Executive Producer.
The Human Rights Press Awards recognize the reporting from around Asia and are organized by The Foreign Correspondents' Club of Hong Kong, The Hong Kong Journalists Association, and Amnesty International Hong Kong.