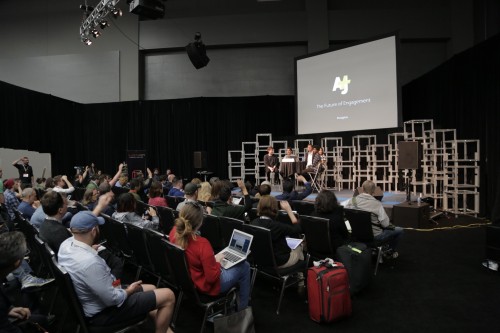 AJ+ Debuts Its Newest App Interface Updates at SXSW
Published on:
19 Mar 2015
Austin, Texas – During their South by Southwest Next Stage panel discussing the Future of Engagement, AJ+ announced updates for both its iOS and Android apps that include a simplified user interface, deep linking, and a seamless mobile video experience.
"The goal of AJ+ is to push the boundaries of our news organization through innovation as well as providing leadership in the digital space, and we are thrilled to provide these updates that take us one step closer to reimagining the way news is consumed on mobile devices," said Yaser Bishr, Director of Strategy and Development at AJ+. 
With the update, AJ+ users will enjoy quite a few updates that enhance the overall app experience, including:
• Performance improvements and a UX overhaul that simplifies usability by giving users the ability to access all core features of the app within 1 to 2 taps.
• Enhanced video playlists, which give users a more robust content and engagement experience.
• Mobile deep linking, which allows app users the ability to share links to screens in the AJ+ app across social networks. 
• Centralized navigation via the left drawer.
• User profile updates and the ability to follow specific people within the AJ+ app, including AJ+ staff.
 
The AJ+ mobile app serves users contextual news in the form of short videos, infographics, quizzes, polls, and online conversations. The news on the app is arranged in stacks, which are organized by trending topics. These stacks give users the ability to dive into relevant topics and become educated on the nuances surrounding these news stories. As users are informed about the issues through short but contextually dense content, they are empowered to engage in online debates and discussions with the global AJ+ community.
AJ+ is a recently launched digital-only news channel from Al Jazeera, headquartered in San Francisco, California. AJ+ highlights human struggles and achievements, empowers impassioned voices, and challenges the status quo. AJ+ strives to make the voice of the voiceless heard in a brazen way that delivers a refreshing perspective on current events and prompts action. The goal of AJ+ is to meet its audience in every digital space by creating custom content for online social communities, which include Facebook, Twitter, YouTube, Instagram, and the AJ+ mobile app.
Contact:
AJ+ Media Team
pluspr@ajplus.net