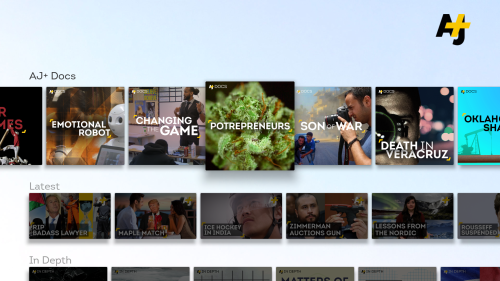 AJ+ Releases Android TV App, Expanding Its Presence on the Big Screen
Published on:
19 May 2016
·         New application now available through Android TV platform.
·         Refreshing mix of original AJ+ content now available for digital TV audiences
·         AJ+ continues to explore new avenues and expand its reach on its distributed content strategy
 
AJ+ has expanded its presence in the video on demand market with new digital experience on Android TV.  This is the third big screen experience from AJ+, following the launch of its apps for Apple TV and Amazon Fire TV. The VoD apps are a natural outlet for  AJ+'s expansive  content library and distribution strategy, which has been driven by native mobile and social distribution of content to-date.
The new Android TV App allows users to consume and engage with AJ+ content and features comments from the mobile app, allowing viewers to comment on stories through the mobile app and adding depth to the engagement experience.
With just over a year since its inception in September 2014, AJ+ has built a unique and captivating content catalogue in the news and information space with innovative formats of video centric content. The AJ+ team will be curating content specifically for Apple TV, Android TV and Amazon Fire TV audiences.
Dima Khatib, Managing Director of AJ+, said: "Video on Demand is one of AJ+'s key objectives in 2016. As AJ+ grows we are looking at solidifying our competitive advantage by distributing content natively to other platforms and looking at additional languages. Google makes an excellent partner for us with Android TV and its global growth roadmap."
AJ+ is a network of digital properties owned by the Al Jazeera Media Network producing and distributing content natively for digital audiences. It operates in 3 languages, Arabic, English and Spanish (Español) with over 5 billion cumulative views online.