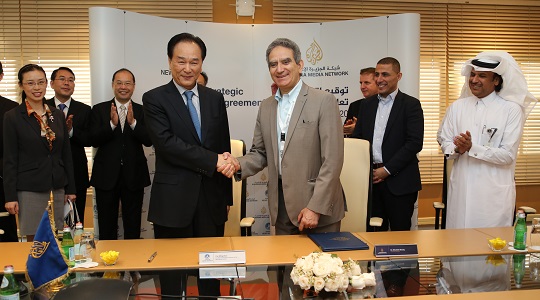 AJMN signs collaboration agreement with Xinhua
Published on:
29 Mar 2016
Al Jazeera Media Network has signed a collaboration agreement with the Chinese Xinhua News Agency aiming to strengthen the professional relationship between the two organizations concerning news gathering and other media works.
The agreement was signed by Dr. Mostefa Souag, Acting Director General and Cai Mingzhao, President of Xinhua News Agency. The signing ceremony was witnessed by a number of executive directors from both organizations.
Xinhua is one of the biggest media organizations around the world, with more than 170 bureaus around the world, 30 of which are located in China. The agency issues more than 20 newspapers and a magazine that are issued in Chinse, English, Spanish, French, Russian, Portuguese, Arabic, and Japanese.