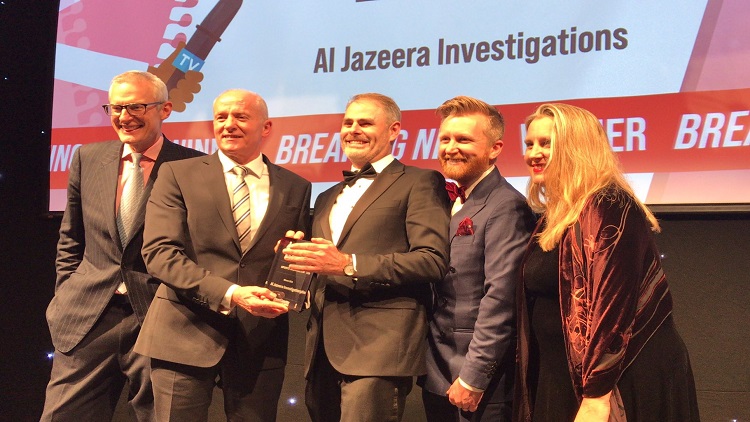 Al Jazeera's I-Unit Film Wins at 2021 British Journalism Awards
Published on:
12 Dec 2021
Al Jazeera Investigative Unit (I-Unit) won one of the 2021 British Journalism Awards in the Sports Journalism category for its film The Men Who Sell Football. The winners were announced on December 8 in London.
The awarded film reveals how English football clubs can be bought by convicted criminals and become vehicles to launder dirty money. Football middlemen tell undercover reporters how they can hide a criminal's money and identity behind offshore trusts and use "dirty tricks" to deceive the football authorities.
Al Jazeera's undercover reporters reach the brink of striking a deal for a fictitious criminal to buy and launder money through Derby County FC, one of England's oldest football clubs.
Commenting on Al Jazeera Investigative Unit's winning, the judges said, "This was amazing video journalism which revealed the sinister people behind the buying and selling of English football clubs. The sting was brilliant, shocking and ground-breaking."
Al Jazeera's Director of Investigative Journalism, Phil Rees, said, "Recognition at the British Journalism Awards with a win and four nominations in other categories reflects the high standards of the Unit's journalism."   
The British Journalism Awards aims to celebrate and promote journalism that is both
interesting to the public and in the public interest.
Al Jazeera Investigative Unit produces exclusive material that disrupts the global news agenda, getting results and impact and effecting change for the better. It provides exclusive journalism for Al Jazeera Media Network's many platforms and its content is translated into multiple languages.
Since its formation, I-Unit's documentaries have won more than forty awards and over a hundred nominations, including four from British Academy of Film and Television Arts (BAFTA). In December 2019, it began its podcast series, Al Jazeera Investigates.​
For a full list of winners please see here.