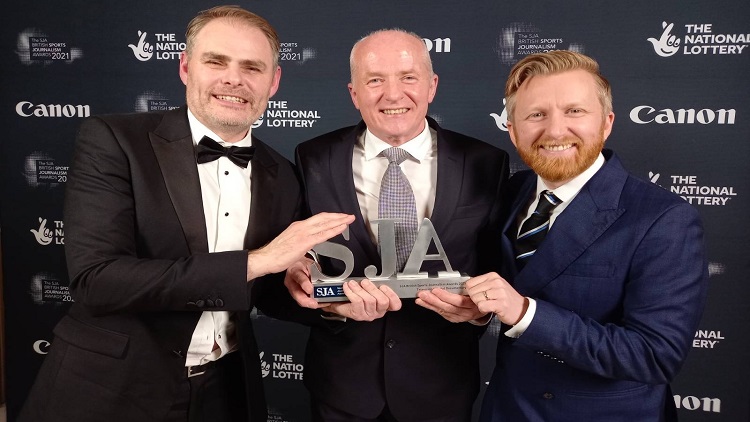 Al Jazeera's Investigative Unit wins two British Sports Journalism Awards
Published on:
08 Mar 2022
Al Jazeera's Investigative Unit (I-Unit) has won two awards at British Sports Journalism Awards. The Men Who Sold Football investigation was released as a film on Al Jazeera English in August 2021 and won gold in the Television/Digital Documentary category.   The podcast of the investigation also won a bronze in the Audio / Radio Documentary category and was released by Al Jazeera's Digital Audio. 
The judges applauded the quality and importance of the investigation and hoped it would 'lead to much-needed change' in the governance of English football.
Al Jazeera's Director of Investigative Journalism, Phil Rees said, "The Men who Sell Football has captured a mood in Britain, where the ownership of its world-famous soccer clubs is under increasing scrutiny."
"It has also showcased the quality of journalism in the I-Unit. The investigation included meticulous research, the gathering of confidential documents from high-level sources and a first-class undercover operation."
In February, The Men who Sell Football won a Royal Television Society (RTS) award in the Current Affairs Home category. In December 2021, it won the Best Sports Journalism prize at the British Journalism Awards, beating strong completion from the Daily Telegraph, Guardian and BBC. The judges described the documentary as "amazing video journalism….the sting was brilliant, shocking and ground-breaking."
The Sports Journalists' Association includes Britain's leading sports writers, editors, and broadcasters. Other winners included former England football player Gary Neville, Channel 4, the Guardian, Sky, BBC, CNN, BT Sports and ITV.  The awards date back to 1949 and attract some of the biggest names in sport.  Past winners include F1 driver Lewis Hamilton and Wimbledon champion Andy Murray.