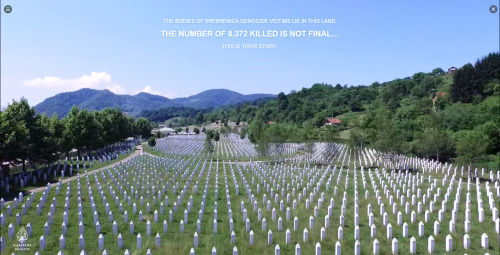 Al Jazeera Balkans launches Srebrenica WEB Genocide Museum
Published on:
08 Jul 2015
In commemoration of the 20th anniversary of the Srebrenica Massacre, Al Jazeera Balkans has launched a collection of documentaries, picture galleries, interactives, maps, videos, award-winning short stories and news reports all on one interactive platform.
Srebrenica WEB Genocide Museum is an interactive website which allows content users access to archived information together with a 360 degree video tour of the places where the atrocities took place. By collating the human stories surrounding the Srebrenica massacre, alongside interactive maps and timelines, the site will allow users to gain an in-depth understanding of the genocide and its aftermath.
Tarik Đođić, Managing Director of Al Jazeera Balkans said the project will allow people to learn the lessons of the genocide: "This project is not just our contribution to commemorate 20th anniversary of Srebrenica Genocide, it's our effort to contribute to the ongoing storytelling process, our effort to keep learning from Srebrenica case." 
The database provides users the ability to see the panoramic view of the location, watch full documentaries, photo galleries and additional Al Jazeera content. It also provides drone footage of the Srebrenica Memorial Center Potočari and is available in three languages: Bosnian, English and Turkish.
"We believe our project will raise awareness of the genocide worldwide. Our obligation is to tell and share stories about Srebrenica and to explain this complex event to the global audience. This is a long-lasting project that will be regularly updated with new content. The platform is adjusted for all PC, Mac, laptop, tablet and smartphone users," said Edin Krehić, Al Jazeera Balkans Senior Web Editor and Srebrenica WEB Genocide Museum Project Manager.
The killing of 8,000 Bosnian Muslim men and boys by Bosnian Serb troops at Srebrenica was the worst massacre in Europe since World War Two.
Ends