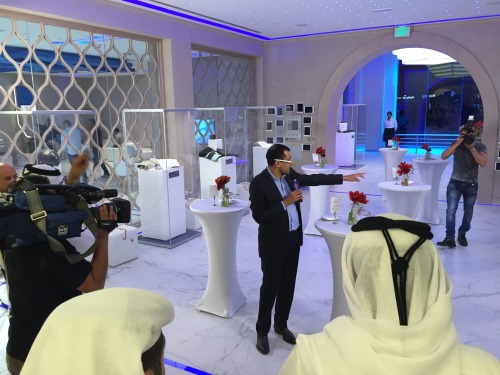 Al Jazeera Café opens to the public
Published on:
20 May 2015
The public can explore the worlds of journalism, news, current affairs and documentaries at Al Jazeera's first cafe. 
Located in Katara, at Building 4 on Shakespeare Street, the new establishment is at the centre of Doha's cultural activity. The cafe gives an exclusive look inside broadcast media while offering a selection of fresh organic dishes. 
As well as boasting a suitably international menu for one of the world's leading media organisations, the cafe features an interactive studio where members of the public can take away videos of themselves reading from a teleprompter on an Al Jazeera set. Pieces of Al Jazeera's history are on display, including its first broadcasting equipment from 1996. 
The cafe itself boasts a smart contemporary design for its numerous zones, with menus loaded on tablets, and many flatscreens with the network's television channels and digital properties keeping patrons captivated and informed. 
Abdulla Alnajjar, Executive Director for Global Brand and Communications at Al Jazeera said: 
"What we're offering here is an experience that makes people feel part of Al Jazeera, the Al Jazeera team and the Al Jazeera environment. The cafe is a hub for conversation, debate and sharing of ideas and opinions. People have always felt part of Al Jazeera, and most recently this has chiefly meant engaging with us online. The cafe fuses together our modern connections with the traditional idea of the coffee house as a centre of community. "A lot of thought has gone into the design, the interaction, and the menu. We hope that the public will like it, and we look forward to the conversation." 
Al Jazeera Cafe is open to the public now and can be followed on Twitter, Facebook and Instagram at /aljazeeracafe #aljazeeracafe
[END]