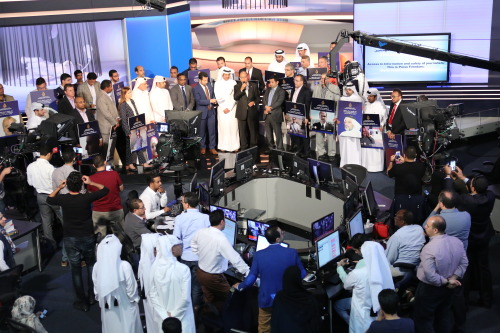 Al Jazeera Celebrates World Press Freedom Day
Published on:
03 May 2016
Al Jazeera Media Network held a stand on Tuesday, May 3rd, in celebration of World Press Freedom Day.  The stand was attended by a number of colleagues, managers and officials at Al Jazeera, as well as representatives from the United Nations, international organizations and the former Tunisian President, Moncef Marzouki. During the stand, pictures of journalists who had lost their lives in the line of duty were held.
Khaled Johar, Al Jazeera Media Network's Acting Director General, stressed that since its inception in 1996, Al Jazeera has continuously called for press freedom and access to information. He urged regional and international organizations that support press freedom, to support "The World Declaration for Journalists Protection", an initiative drafted by Al Jazeera in collaboration with the International Press Institute (IPI) and other partners.
Dr. Obaid Ahmed, the United Nations Regional Director for Human Rights, said the annual stand reaffirms the principle of freedom of expression and the people's right to access information. It is also an occasion to honor the journalists who have sacrificed their lives in the line of duty.
Yaser Abuhilalah, Al Jazeera Arabic's Managing Director, elaborated on the challenges encountered by the channel since its launch; the latest of which was the shutting down of its bureau in Baghdad. He restated the channel's editorial policy and reaffirmed the channel's commitment to reporting the stories of the oppressed and voiceless. He also pointed out that the Arab region is one of the most dangerous areas in the world for journalists.
Mohammed Saad Al-Rumaihi, Al Jazeera's Acting Manager of Communications, said that Al Jazeera will always honor its colleagues who were killed in the quest for truth in the world's hot spots and war zones. He also reminded international organizations and officials around the world to act on their legal and ethical responsibilities towards protecting journalists and respecting freedom of expression, as stated in the Universal Declaration of Human Rights. Al-Rumaihi also stressed Al Jazeera's solidarity with all imprisoned journalists around the world, and called for their immediate release and for international organizations to put pressure on the involved countries to conduct serious investigations into crimes committed against journalists.
Al Jazeera Media Network issued a statement earlier in the day in which it denounced the shutting of its bureaus in Iraq, Syria, and Egypt, and the restrictions imposed on its activities and journalists elsewhere in the world. The statement also called on all governments and organizations to respect press freedom and the right of journalists to access information without fear of harm, persecution, or death. Al Jazeera also restated its editorial policy, and adherence to the professional standards contained in its ethical charter and code of conduct.
Al Jazeera has also sent a delegation to participate in UNESCO's 2016 World Press Freedom Day event in Helsinki, Finland. The Al Jazeera delegation consists of Acting Director General Dr. Mostefa Souag, Public Liberties and Human Rights representatives Sami Alhaj and Hassan Saeed Elmogummer Taha, and freed journalists Abdullah Elshamy and Baher Mohamed. While attending the UNESCO event Dr. Mostefa Souag will join a panel of speakers in a session to discuss Sustainable Development Goal 16, which aims to ensure public access to information and protect fundamental freedoms in accordance with national legislation and international agreements.
To get involved with UNESCO's World Press Freedom Day, you can follow discussions through the livestream available on the UNESCO website, and Tweet using the hashtag #WPFD2016.