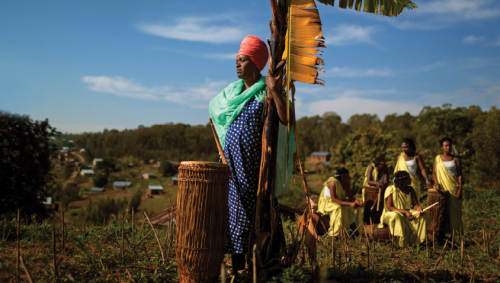 Al Jazeera demonstrates creative prowess as they win at The One Show
Published on:
11 May 2015
Al Jazeera English wins 1 Bronze and 2 Merit awards at global advertising awards The One Show for human stories campaign
Al Jazeera English has been celebrated for their recent brand campaign at the international advertising awards The One Show.  Picking up 1 Bronze and 2 Merit Awards in the Branded Content Category, Al Jazeera sets a new creative precedent for other news agencies and brands.
Al Jazeera English's winning campaign, 'Hear the Human Story' was the channel's first global brand campaign. Conceptualized by Memac Ogilvy & Mather Dubai, the campaign's unique approach led to it being highly commended on a global level. The non-traditional positioning of a news agency as one who listens and tells the stories of those who are often neglected by media, demonstrates the bold attitude of Al Jazeera English.
The channel's commitment to reflecting humanity in their reporting has been extremely popular and well received, increasing viewership and campaign recall in key priority markets.
Abdulla Al Najjar, Al Jazeera's Executive Director of Global Brand & Communications, commented: 
"The campaign underpins Al Jazeera's belief that humanity is the only thing that truly connects everyone in the world. Al Jazeera English believes that human aspirations reflected in the dreams, fears, joys, and frustration of people across the planet, are the things we all have in common. It is these qualities that give stories relevance and meaning and this is what we based our campaign on. "
Kayoko Nidsaid, Marketing Manager at Al Jazeera Media Network shared her enthusiasm about the awards: "We are extremely proud to have been acknowledged for our work in highlighting real peoples' stories. We are committed to covering news that really matters by giving a voice to those that are often ignored by media and putting much needed humanity back into the news. We are honored that The One Show recognized that our approach and philosophy were worth promoting and celebrating; we hope to continue this success as we enable the world to 'Hear the Human Story'."
Commenting on the achievement, Ramzi Moutran, Executive Creative Director Memac Ogilvy & Mather said: 
"It is testament to Al Jazeera's incomparable positioning on reporting that they have been so highly commended by this prestigious awards body who promote excellence in advertising. We are privileged to work with Al Jazeera on this campaign and are very pleased that the merit of focusing on the human story has been praised."
Launched on 3rd November 2014, the campaign ran in 12 countries over six weeks. It encompassed a short film, TV ads, press, poster and digital legs, as well as interactive photographic exhibition in London.
True to the theme, each piece of work in the campaign tells a human story. The first to be documented was about from Champa Pal, a member of the all-women Gulabi Gang in India. Six other incredible stories from people in Rwanda, India, Jordan, Spain and the Philippines were also shared.