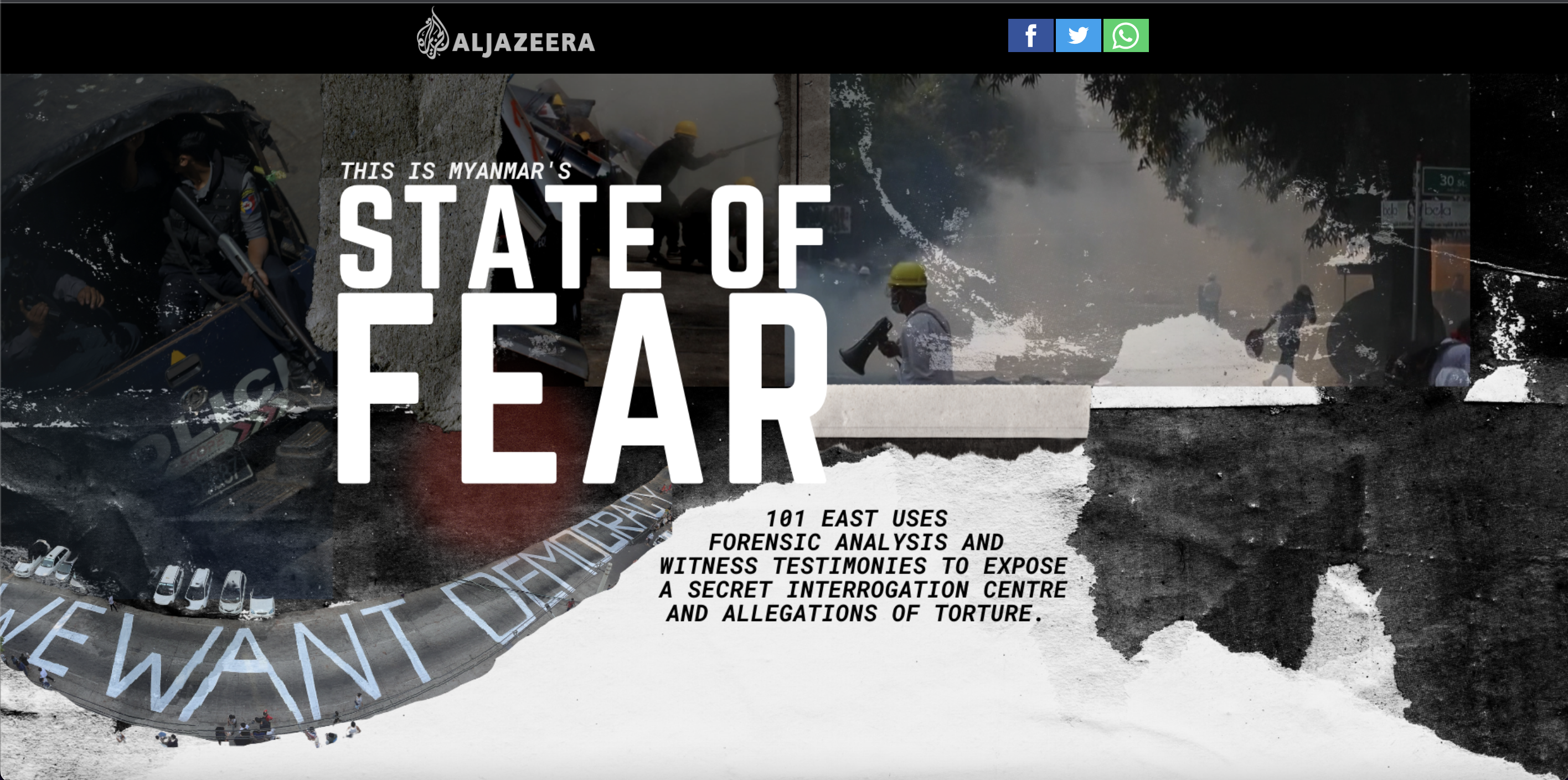 Al Jazeera English's 101 East team recognised with three online media awards for investigation exposing a secret detention centre and alleged human rights abuses in Myanmar
Published on:
01 May 2022
Al Jazeera English's 101 East team has won three awards at the 2022 Drum Awards for Online Media.
The interactive project "This is Myanmar's State of Fear" was announced as the winner in the "Best Designed Site" and "Best Campaigning/Investigative Journalism" categories.
In a competitive field including CNN, BBC, ITV and Insider, Al Jazeera English was also selected as the winner of the prestigious Chair Award.
"This is Myanmar's State of Fear" is a forensic investigation into the aftermath of the Southeast Asian country's military coup in February 2021. The interactive puts cases of alleged torture, mysterious deaths, disappearances and detention without charge under the spotlight.
The exposé drew on the reporting in the 101 East documentaries, "Inside Myanmar's Crackdown" and "Myanmar: State of Fear" as well as data from the Assistance Association of Political Prisoners, supplementing it with an array of rich data-driven digital content.
Using rare detainee testimonies, field reporting, and satellite technology, the team uncovered a secret facility in a military compound on the outskirts of Myanmar's largest city, Yangon. With investigative agency Forensic Architecture, the 101 East team located and digitally recreated the centre, which was allegedly used for interrogation and abuse.
Drum Awards judge, Blaithnaid Healy said the investigation "made an impact on a people that really needed help".
She added that: "Our winner holds power to account by exposing substantial allegations of wrongdoing. The digital storytelling and treatment centres the victims and their humanity, it captures the scale as well as the deep and individualised impacts of the personal loss experienced by survivors and family members. It's a difficult but incredibly important story and a worthy winner of this year's Chair Award."
101 East's senior supervising producer Nick Olle thanked the Drum Awards judges.
"We are very proud to receive this recognition for what was a fantastic team effort," he said.
"This data-driven project combined investigative reporting and impactful production to document the six months following the military coup on February 1, 2021. It is intended to be a lasting digital resource for online audiences."
101 East reporter Ali Fowle, who reported on the ground in Myanmar for the programme, stressed the importance of continued media coverage.
She said: "The dire situation in Myanmar is ongoing and it is incredibly important that the media continues to hold power to account there."
The Drum Awards for Online Media reward original, clever and thought-provoking work across all platforms. They are open to editorial teams and media owners of any size and recognise the most effective and innovative work from around the world.