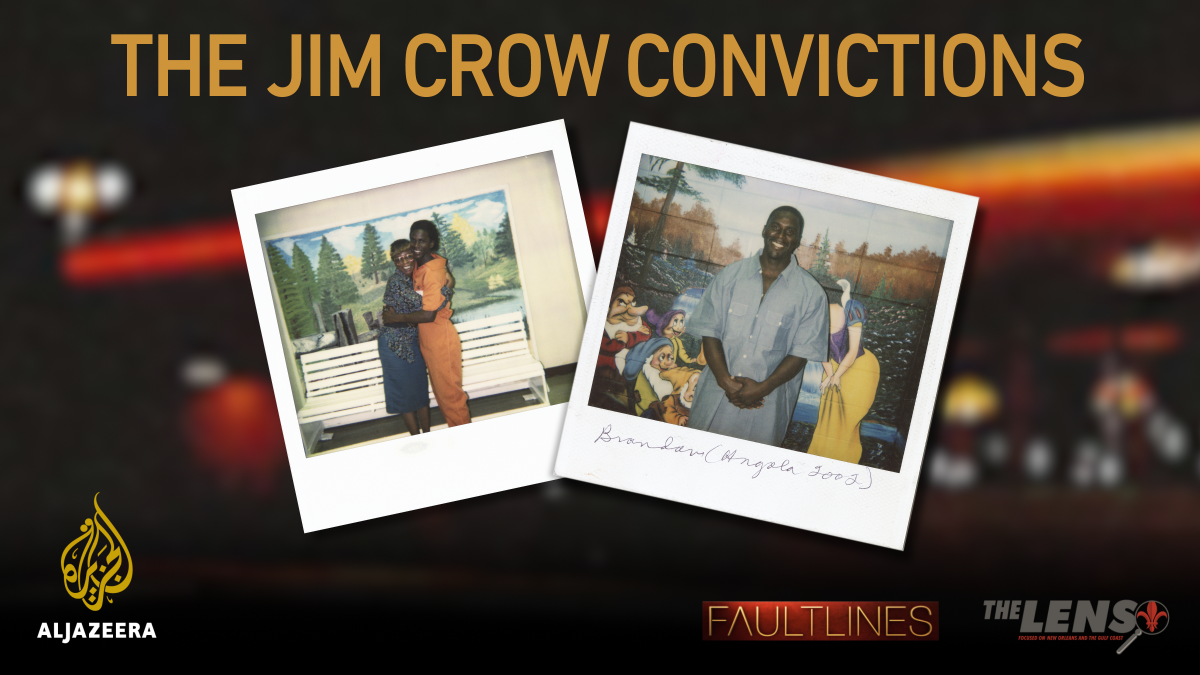 Al Jazeera English's Fault Lines investigates The Jim Crow Convictions in Louisiana
Published on:
04 Oct 2021
Today, Fault Lines, Al Jazeera English's Emmy and Peabody-award winning documentary programme, is releasing a new investigative episode, The Jim Crow Convictions, about how Louisiana continues to incarcerate people with non-unanimous convictions that have been labelled unconstitutional by the U.S. Supreme Court. This episode is a special collaboration with "The Lens", a non-profit newsroom based in New Orleans.
The investigation focuses on Brandon Jackson, a 49-year-old man who has spent more than half of his life in prison. In 1997, Jackson was convicted of an armed robbery that he denies being involved in, and was sentenced to life in prison. The verdict in his case was non-unanimous, 10 jurors voted guilty and 2 voted not guilty. In 48 out of 50 states, he would have had the right to a retrial, but not in Louisiana.
"It's important to have a unanimous jury verdict because it is important to make sure that there are not reasonable doubts as to someone's guilt," said Jamila Johnson, the managing attorney of the Jim Crow Jury Project at the Promise of Justice Initiative. 
Non-unanimous jury convictions in Louisiana trace their roots to the 1800s during the Jim Crow era when white politicians passed laws to disenfranchise Black Americans from civic life. In 2020, the Supreme Court ruled the practice unconstitutional and banned it moving forward, but the court later said the ruling would not apply retroactively. That leaves Brandon Jackson's fate hanging in the balance, along with some 1,500 others behind bars in Louisiana on non-unanimous verdicts.
 
In The Jim Crow Convictions, Fault Lines and The Lens confirmed that the two jurors who voted to acquit Jackson were Black. In an interview, one of them said that she felt that other jurors had dismissed her, showing that this law worked the way it was intended in muting the voices of Black jurors. The reporters also tracked down a white juror who had voted to convict Jackson. In an astonishing interview, Stacy Marks admitted that Jackson's demeanor in court, specifically that he made eye contact with the jury, helped convince her that he was guilty. Hearing this, Jason Williams, the New Orleans District Attorney said, "A black male making eye contact with a white person years ago could cause him to lose his life, and in this particular situation, it caused him to lose his freedom."
Jackson has a court hearing scheduled for October 7 in Bossier Parish, Louisiana. A judge is expected to rule on whether he will grant Jackson a new trial based on the fact that his jury wasn't unanimous. The local district attorney has opposed Jackson's motion for a new trial.
 Note to Editors
●  The Fault Lines episode will premiere online on Monday October 21st, 2021 at 8am ET 
●  The full show will be available through this link:
●  Follow Fault Lines on Twitter @AJFaultLines