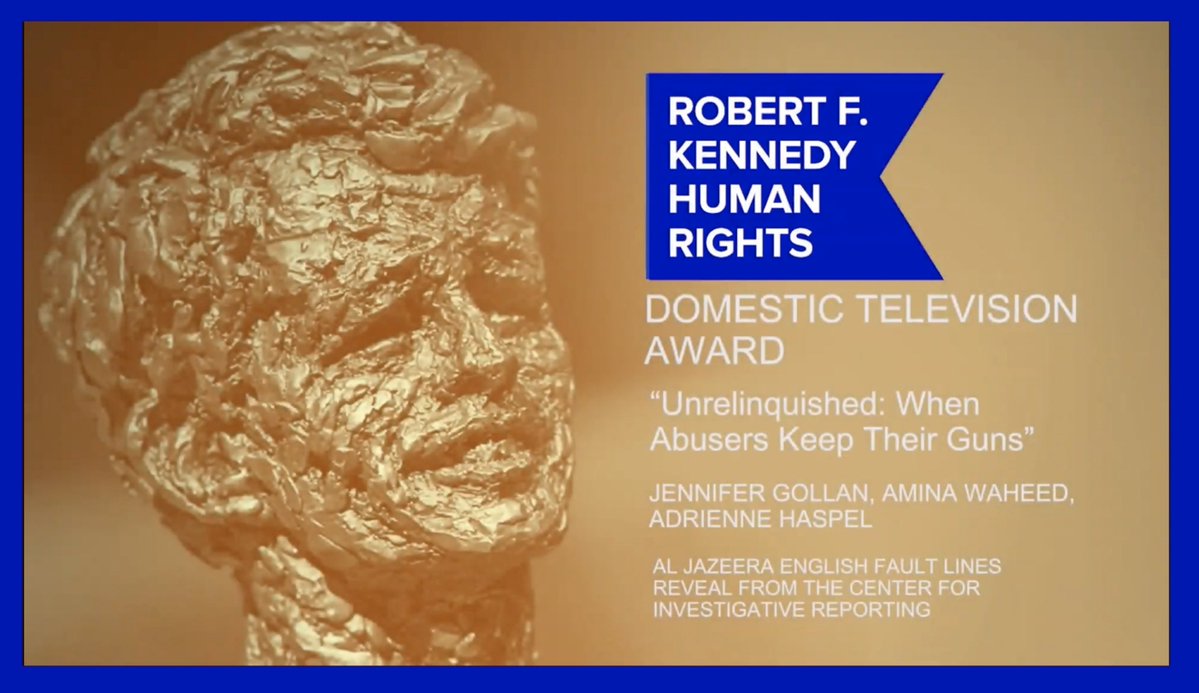 Al Jazeera English's Fault Lines Wins a Robert F. Kennedy Journalism Award
Published on:
26 May 2022
Al Jazeera English's US-based documentary strand Fault Lines has won the prestigious Robert F. Kennedy Journalism award for its 2021 episode "Unrelinquished: When Abusers Keep Their Guns."
The award, given by the Robert F. Kennedy Human Rights organization, was announced on 24 May 2022 in an online ceremony. Other winners for this year's awards include PBS, USA Today, the New York Times and the Miami Herald.
The documentary, which was produced in partnership with Reveal from the Center for Investigative Reporting, won in the Domestic Broadcast category.
In an exclusive investigation, Fault Lines and Reveal expose how US gun laws have failed to prevent domestic abusers from killing their partners. The film follows reporter Jennifer Gollan as she investigates gaps in the system that allow domestic abusers to keep their guns – with deadly consequences.
Along with Gollan, the team behind the film includes producer Amina Waheed, editor Adrienne Haspel, director of photography Joel Van Haren, associate producer Darya Marchenkova, and executive producer Laila Al-Arian.
"We are so grateful to the Robert F. Kennedy Journalism Awards for this honour, as well as to our partners at Reveal and to the families who spoke with us despite their tremendous losses," said Al-Arian.
"I hope this film, and the recognition it's received, will spur action that prevents countless tragic deaths at the hands of armed domestic abusers," Waheed said.
Al Jazeera English had previously won Robert F. Kennedy Journalism awards for its coverage of the 'Arab Spring' protests in 2011 and the Fault Lines' film on human rights issues in the clothing supply chain in Bangladesh.
Founded by the reporters who covered Robert F. Kennedy's 1968 presidential campaign, the Robert F. Kennedy Journalism Awards honour outstanding reporting on issues that reflect Robert Kennedy's concerns, including human rights, social justice, and the power of individual action in the United States and around the world.
Al Jazeera English is a highly decorated news and current affairs channel - in recent years it has won three Royal Television Society awards, a Peabody and several Emmy awards, including two for Fault Lines' episodes.