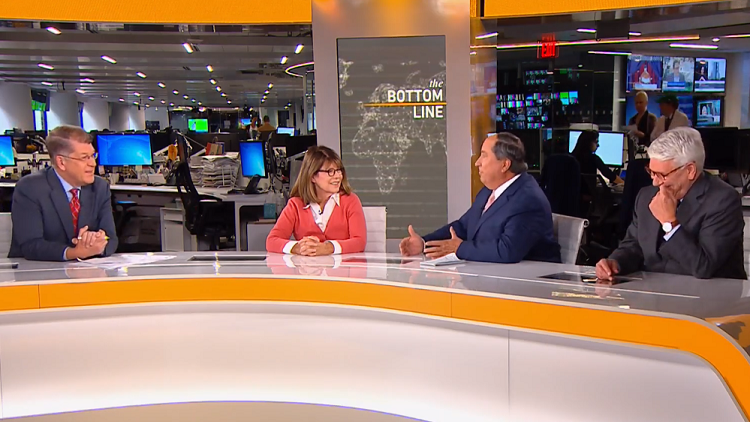 Al Jazeera English launches new current affairs program on U.S. politics
Published on:
24 Oct 2019
Al Jazeera English announced the launch of a new, weekly discussion program exploring and explaining developments in U.S. politics, policies and society.
 
Filmed from Al Jazeera's studios in Washington, DC, the show will be moderated by veteran American journalist Steve Clemons, editor-at-large at The Hill, one of the most-read political media platforms in the United States.
 
The Bottom Line will delve into the big issues facing the United States with a different panel of guests each week, The program airs every Wednesday at 00:30 GMT.
 
The show is aimed to serve Al Jazeera English's global audience keen to understand the twists and turns of American politics, as well as Al Jazeera English's digital audience in the United States.
 
"With so much news emanating from the Trump administration, and with the 2020 presidential election campaign gearing up, there has never been a more fitting time to launch a show that will provide our audiences a balanced and informed view on what's happening in Washington and beyond," said Giles Trendle, the Managing Director of Al Jazeera English.
 
"I've been covering the politics and consequential personalities of Washington DC for decades," said Clemons, "and I will be cutting through all the noise to shed light on the truly important issues."
"Al Jazeera is a great home for this show, and I'm very excited to be a part of it. For me, it adds to the foundation of what I have been building with my colleagues at The Hill."
"This show will give our audience a better understanding of what's really going on in the United States, and what it means for Americans and the rest of the world," he said.
 
"We know that people here and around the world are always looking for an informed, broad-minded and non-partisan take on the ever-changing political landscape of the United States," said Imad Musa, executive producer of the show. Musa previously produced Q&A with Riz Khan and The Café for Al Jazeera English.