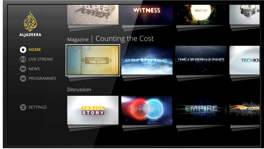 Al Jazeera English now available on Opera TV Snap
Published on:
31 Mar 2016
Al Jazeera English's award-winning content is now available worldwide on Opera TV's network of OTT partners through a newly developed app using Opera TV's Snap technology.  
Opera TV's network of OTT partners enables publishers of online video to reach new audiences on millions of Smart TV devices. The Al Jazeera English TV Snap app will include live broadcasted stream, video clips from latest news and full episodic content with multi-tier category navigation for easy access. The app will join the Opera TV content portfolio for Smart TVs, set-top boxes and Blu-ray Disc players from leading pay-TV operators and manufacturers including Sony, Samsung and TiVo.
"The challenge broadcasters face today to deploy Smart TV apps due to the platform fragmentation can be time consuming and costly. In our conversations with Al Jazeera, it was clear our latest Opera TV Snap would address the challenges and provide a robust, future proof solution that can be deployed on millions of devices immediately" says Daniel Nordberg, VP Content Acquisition for Opera TV. "We are excited to bring such a leading, prestigious news outlet as Al Jazeera to Opera TV and that we made it possible for them with the Opera TV Snap innovation."
Abdulla Al Najjar, Al Jazeera's Executive Director of Global Brand and Communications, commented: 
"We are very excited to announce the launch of the Al Jazeera English app on Opera TV Snap. As a network, we are committed to expanding onto new platforms and look forward to increasing the reach of our ground-breaking content on a global level."
Established in 2006, Al Jazeera English has continued to grow in reach and popularity due to its global coverage, especially from underreported regions. The international news channel currently broadcasts to over 260 million households across 130 countries.
Al Jazeera English's in-depth global approach to journalism, along with a commitment to telling the human story, has won it numerous awards and plaudits over the years.
ENDS
For more information, contact pressoffice@aljazeera.net
About Al Jazeera Media Network
Al Jazeera strives to deliver content that captivates, informs, inspires and entertains.  Launched in 1996, Al Jazeera was the first independent news channel in the Arab world dedicated to providing comprehensive news and live debate. It challenged established narratives and gave a global audience an alternative voice—one that put the human being back at the centre of the news agenda—quickly making it one of the world's most influential news networks. Since then, it's added new channels and services, with more than 70 bureaus around the world, while maintaining the independent and pioneering spirit that defined its character. Each subsidiary follows the same principles—values that inspire it to be challenging and bold, and provide a 'voice for the voiceless' in some of the most underreported places on the planet.
About Opera TV
The Opera TV portfolio powers rich web experiences on tens of millions of Smart TVs, set-top boxes, Blu-ray Disc players and chipsets for more than 60 customers. The Opera TV ecosystem spans the Opera TV Store app platform with hundreds of entertaining apps tailor-made for TV, the Opera Devices SDK (software development kit) for creating and rendering HTML5-based user interfaces and the Opera TV browser for reaching the full web. Opera TV offers solutions for OEMs, pay-TV operators, broadcasters and content publishers. With the Opera Mediaworks advertising platform, Opera TV can help monetize and drive traffic to content through an end-to-end advertising solution. Visit www.opera.com/tv/ to learn more.