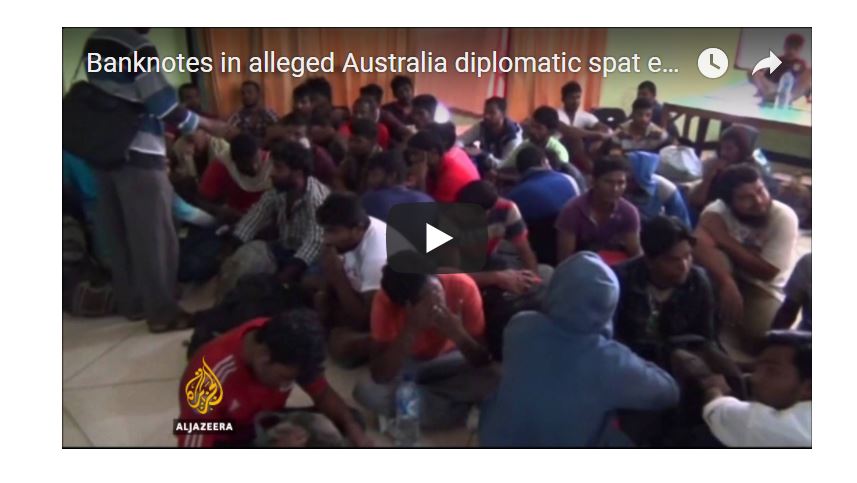 Al Jazeera gets exclusive access to film banknotes alleged to be given to people smugglers
Published on:
16 Jun 2015
 ·         Indonesian police tell Al Jazeera transaction is 'illegal"
Al Jazeera have been given exclusive access to film the banknotes alleged to have been handed over by Australian officials to people smugglers at sea by speaking to the captain of the boat at the centre of the controversy.
The Australian government is still refusing to answer questions on whether the payment took place which has sparked a major dispute between the two countries.
Al Jazeera were given exclusive access to the banknotes in $100 US bills at the centre of a major diplomatic dispute.
The cash, the Indonesian police say was given at sea by Australian officials to people smugglers to ensure they returned their human cargo to Indonesia.
On Rote Island in Indonesia, Yohanes Humiang, the captain of asylum-seeker boat told Al Jazeera: "I told the Australian man we needed money so that we could return to our wives and children. He said 'ok, we'll help you'. As captain, I got $6,000 Dollars (US), the five crew got $5,000 (US) each."
The captain, now in Indonesian police custody, claims his boat was escorted by two Australian vessels over a two week period. Eventually, passengers and crew were transferred to two different fishing boats that the Australians provided and once paid sent in the direction of Indonesia, according to the boat's captain.
Endang Sunjaya, Head of Regional Police in Kupang City, Indonesia told Al Jazeera the transactions were illegal: "According to our law, this is bribery. This is illegal, we will let the international world decide what should be the punishment for it."
The Australian government have always insisted that their officials always have acted legally, despite legal experts saying paying smugglers to take people anywhere would be against international and even Australian domestic law.
Ends