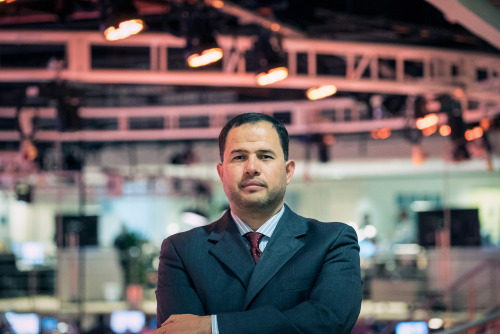 Al Jazeera journalist sentenced in absentia speaks out for first time
Published on:
02 Jun 2015
Egyptian Alaa Bayoumi, one of six Al Jazeera journalists sentenced in absentia by Egyptian courts is speaking for the first time after a 17 month ordeal 
Bayoumi says he hopes "world will not forget that six more Al Jazeera journalists continue to carry unjust 10-year sentences" 
Bayoumi says he has been outside Egypt for 18 years and charges are baseless
Al Jazeera's Alaa Bayoumi, one of six Al Jazeera staff who were sentenced to ten years in absentia by an Egyptian court last summer has publicly spoken of his ordeal for the first time.
Bayoumi and five other Al Jazeera colleagues including British journalists Dominic Kane and Sue Turton were implicated and sentenced alongside Al Jazeera's Mohamed Fahmy, Baher Mohamed and Peter Greste who were wrongly accused of spreading false news and inciting terrorism.
Despite an ongoing retrial taking place with a defence summation due on June 4th, Bayoumi and his six colleagues are still not guaranteed an acquittal as they are expected to stand trial in Egypt.
Bayoumi says all of the charges labeled against him are false:
"I have never worked for Al Jazeera in Egypt. I visited the office there once and for about two hours on a personal trip in early 2012. I have never even met Baher Mohamed or Mohamed Fahmy, who joined the network just a few months before their unfortunate arrest. I have seen Peter Greste, who has been Al Jazeera's correspondent in East Africa, a few times at the Doha headquarters, but we were never properly introduced before his arrest. Needless to say, I have never sent any money to AJE in Egypt or in any other country. I don't own any broadcast equipment. I have never joined, financed, or supported the Muslim Brotherhood or any other group in Egypt. I have been living outside of the country for the last 18 years, and I hardly visit."
However due to no real resolution and no options to clear his name, Alaa Bayoumi says silence is no longer an option:
"For the last 17 months I have chosen to remain silent. As a journalist I am much more used to speaking about the suffering of others than about my own. I feel deep in my heart that I should not be the story. I also felt that my jailed colleagues were the priority and should have received all the attention until they were safe and free.  However, now it is time to speak up. As journalists we always encourage victims of abuse to speak up and to expose perpetrators. We should set the example. I strongly feel that I owe such a testimony to myself, my family, and my colleagues who want to expose the injustice we continue to suffer.
The current retrial is taking place after Peter Greste was deported to Australia and Baher Mohamed and Mohamed Fahmy were released on bail, but Bayoumi hopes the world won't forget that there are seven other innocent journalists who are caught up as well.
"I hope that Mohamed and Baher will be set free soon and that the world will not forget that six more Al Jazeera journalists, including myself, continue to carry unjust 10-year sentences. We were named and convicted in a baseless case that aimed to intimidate our network and other independent media groups."