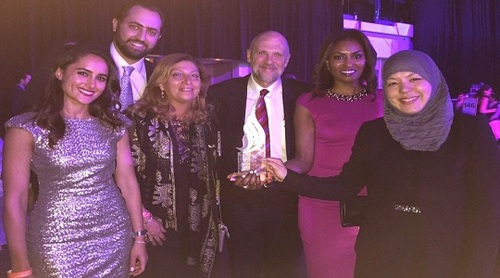 Al Jazeera Marketing Harvests 3 Awards in "Dubai Lynx"
Published on:
12 Mar 2015
Al Jazeera Marketing has won three awards in the marketing andmedia festival "Dubai Lynx International Festival" for the campaign "Hear the Human Story" it carried out for Al Jazeera English (AJE).
The Dubai Lynx Awards honor and celebrate MENA's best work in creative advertising. The work is adjudicated by international juries during the Festival and the winners were announced at an awards ceremony in Dubai on Wednesday March 11, 2015.
The campaign was launched on November 3, 2014 across the world, after an extensive process driven by marketing, PR and editorial to define the channel's brand purpose – that everyone has a story worth hearing.
It was the largest campaign ever run in Al Jazeera's history. It pointed out that AJE covered all the big themes and issues facing the world today, but did so from the perspective of real people. A special ceremony to launch the campaign was organised in South Africa, followed by events in the UK and Australia.
The Liter of Light film from the Philippines picked up a Silver award, while the main brand film We are Fireabout the Gulabi Gang in India picked up two bronze awards. The campaign also featured content from Rwanda, Spain, and more from India.
Kayoko Nidsaid, manager of marketing for AJMN, thanked everyone across the network for their contribution to the success and said this was just the start of an exciting campaign whose best had yet to come.
The Dubai Lynx International Festival of Creativity is the Middle East and North Africa region's (MENA) annual must-attend event for the advertising and communications industry to learn, be inspired, network and celebrate.