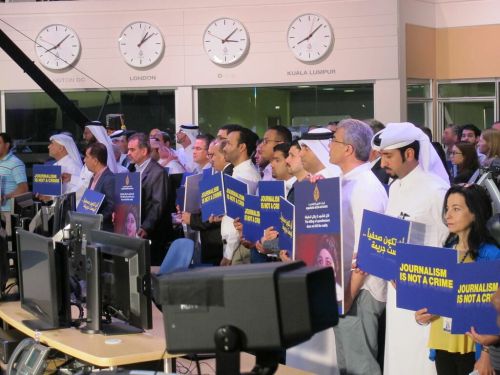 Al Jazeera marks World Press Freedom Day
Published on:
03 May 2015
In celebration of World Press Freedom Day, Al Jazeera organized vigils across its channels that were broadcast simultaneously on the network's screens with the message "Journalism is not a crime," the slogan which has gained worldwide support and recognition through the ongoing #FreeAJStaff campaign to free Al Jazeera's journalists charged in Egypt. While journalists Mohamed Fahmy and Baher Mohamed have been released, they still face retrial, and other Al Jazeera journalists are still charged in absentia. 
Al Jazeera also sent a delegation to participate in UNESCO's World Press Freedom Day held in Riga, Latvia where the channel's freed journalist Peter Greste spoke on the challenges for journalists and editors in the world's hotspots, as well as on the issue of providing support to local journalists during, and in the aftermath, of psychologically traumatizing events.
Reflecting on this occasion, Sami Elhaj, Al Jazeera's Director of Public Liberties and Human Rights commented, 
"Every year, Al Jazeera celebrates the day to inform the international community, major international organizations and key media establishments that freedom of opinion and expression are fundamental human rights that are violated on daily basis, and to remind people that many journalists brave death or face jail to bring daily news to the public."
To get involved with UNESCO's World Press Freedom Day, you can tweet your answer to the question "How Can Journalism Thrive?" using the hashtags #WPFD2015 and #KeepSpeechFree (or in your native languages).