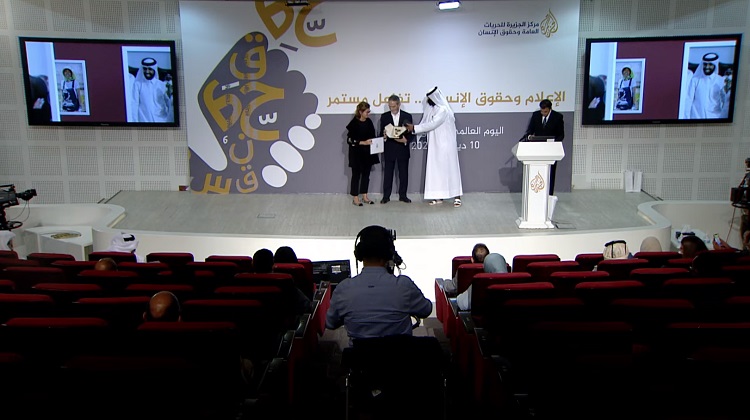 Al Jazeera Public Liberties and Human Rights Centre celebrates its 13th anniversary
Published on:
13 Dec 2021
Al Jazeera Public Liberties and Human Rights Centre organised numerous events and activities to celebrate its 13th anniversary, which coincided with the Human Rights Day on December 10.
The Centre wanted to highlight the media's coverage of the most pressing human rights issues around the world such as forced migration, climate change, freedom of press and expression and it also wanted to highlight the Network's role in embedding those issues within the media landscape.
In addition, the Centre announced this year's winning initiatives in "Inspiring Stories", a programme that was launched this year and which received high levels of engagement from viewers and followers across Al Jazeera's digital platforms.
The winning initiatives were determined based on public votes and the evaluation of members of a jury that included experts and officials of the UN and human rights organisations, including Iman Ereiqat, Chief of Mission, UN Migration - International Organisation for Migration Qatar (IOM Qatar); Farid Hamdan, Director of the United Nations Centre for Human Rights in Qatar; and Cherine Pollini, Head of Mission - International Committee of the Red Cross in Qatar – ICRC.
"My Craft is in My Hand", a story from Yemen, won first place, is about a teacher, Hayat Al-Dhubhani, who embarked on an initiative to train young people in practical professions and income-generating tactics to assist in building their futures and in helping their families to face the challenges of daily life.
In second place, the story "To not extinguish the light of their eyes", from Sudan, is about an initiative launched by Hassan Al-Tijani to build a private eye hospital in the Sennar region, with the contribution of the city's people and local associations.
The story, "Disability Inspires Me" from Syria, came in third place, which is about Mustafa Al-Andani's initiative to develop solar-powered wheelchairs for people with disabilities.
Meanwhile, the Centre's "Not Just a Number" campaign seeks to defend journalists by demanding an end to unlawful attacks intimidation and prosecutions committed against them while also creating a safe work environment for them to perform their work.
Michelle Bachelet, the United Nations High Commissioner for Human Rights, addressed Al Jazeera about the initiative of the Centre, calling for the defense of journalists and free speech.
Sami al-Hajj, Director of Al Jazeera Public Liberties and Human Rights Centre, said: "On the occasion of the world's Human Rights Day, we call for the respect of the freedom of opinion and expression; the reopening of Al Jazeera's office in Tunisia and the release of Al Jazeera journalists detained in Egypt. Through organising events and initiatives, we seek to highlight the most pressing human rights issues and underline the role of the Network in establishing human rights concepts in the media landscape. Al Jazeera Documentary Channel has produced a special film about the Centre's work titled: 'With the Human'."