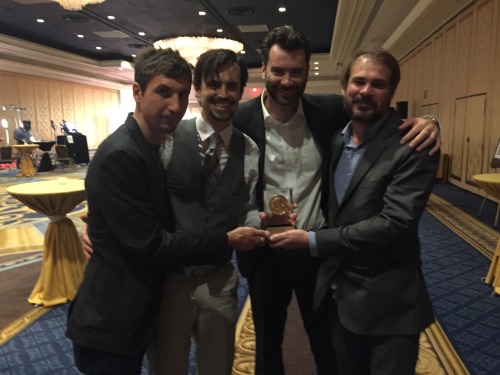 Al Jazeera wins a plethora of awards at New York Festivals
Published on:
20 Apr 2016
·         Life on Hold wins the special UNDPI Gold and one Gold award
·         101 East wins five Gold awards and three Silver awards
·         Investigations Unit film on Boeing wins one Gold and one Silver
·         Faultlines wins three Gold Awards, one Silver and one Bronze
Doha – 20th April 2016: Al Jazeera is celebrating winning a total of eleven Gold World Medals, six Silver World Medals and two Bronze Medals at the prestigious New York Film Festivals awards.
A special award which was decided by a United Nations Jury honoured the interactive documentary Life on Hold with the UNDPI medal, while also winning the Gold in the Online News category.
101 East won two Gold medals for Afghanistan's Billion Dollar Drug War as Best Investigative Report and for the Human Concerns category. Myanmar's Jude Curse won a Gold Medal in the National/International Affairs category, while Malaysia's Unwanted won a Gold Medal for the Best Current Affairs programme. 101 East presenter Steve Chao won his second consecutive Gold Medal for Best News Reporter/Correspondent.
101 East also won three Silver World Medals for the episodes Murder in Malaysia, Myanmar's Jade Curseand Becoming Pacquiao.
Faultlines, which was a joint Al Jazeera English and Al Jazeera America programme won three Gold World Medals for Mexico's Disappeared and Death of Aging, while Ferguson: Race and Justice in the U.S won a Silver World Medal. Faultines also picked up a Bronze Medal for Forgotten Youth: Inside America's Prisons.
Al Jazeera English news was awarded a Silver World Medal for Best Coverage of a Continuing News Story for Desperare Journeys which covered the refugee crisis in Europe.
My Nigeria, which was a six part Al Jazeera production showing six stories of six Nigerians picked up a Bronze in the Community Portraits category.
Commenting on the success at New York Festivals, Giles Trendle, Acting Managing Director of Al Jazeera English said: "Al Jazeera English is delighted to have won a series of gold and silver medals at the New York International TV & Film Awards. The five gold medals won by our weekly 101 East strand is a testament to the quality of our journalism and the importance of our mission to tell compelling stories from around the world. We are also pleased with the two gold medals won for our innovative web documentary project 'Life on Hold' that tells the personal and poignant stories of some of the Syrian refugees in Lebanon in an engaging and non-linear manner. The silver medal for our 'Desperate Journeys' news coverage on the refugee story highlights how we have set the news agenda on one of the defining stories of our time".
Broken Dreams: The Boeing 787 which was a hard hitting programme made by Al Jazeera's Investigation Unit which revealed the deeply-held safety concerns of current and former Boeing engineers while allegations were uncovered of on-the-job drug use, quality control problems and poor workmanship won the Gold Medal Awards in the Current Affairs and a Silver World Medal in the Business and Finance categories.
Phil Rees, the Manager of the Al Jazeera Investigation Unit said: "It is fantastic for the Al Jazeera Investigative Unit to be recognised once again for dealing with this commercially sensitive subject with such persistence and bravery. In the tradition of the finest investigative journalism, the production team spoke truth to one of the world's most powerful corporations." 
The Investigation Unit also picked up a Finalist Certificate in the Current Affairs Category for Inside Kenya's Death Squad. Al Jazeera English also picked up eight Finalist Certificates for a variety of programmes from Faultines, 101 East, Women Make Change and People and Power.
The New York Festival's World's Best TV & Films competition honours programming in all lengths and forms from over fifty countries. Dedicated to both the Television and Film industries, categories mirror today's global trends and encourage the next generation of story-tellers and talent
Ends