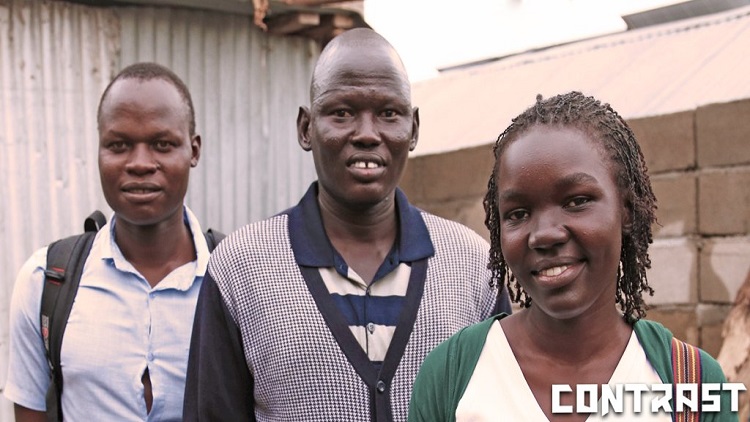 Contrast Releases 360º Video Series "My People, Our Stories" from South Sudan
Published on:
05 Aug 2018
Contrast, Al Jazeera's immersive media studio, announces the release of the latest immersive 360º video series from South Sudan. During a workshop in Juba, in partnership with Journalists for Human Rights, ten South Sudanese journalists were trained and equipped with 360º cameras to tell stories from and about their communities.
These five short stories, as part of larger Contrast's initiative "My People, Our Stories", open a window into everyday life in Juba, the capital of the world's newest country. From access to clean water to programs for people with disabilities, every character in the video shares something important about their difficult, though, hopeful lives. The series paints a picture of a country torn by decades of conflict and stricken by poverty, yet driven by an aspiration for a brighter future.
"The experience was phenomenal," said Maura Ajak, reporter at Catholic Radio Network. "The training offered me an opportunity to learn how to plan the story before the shoot. In addition, the experience made me reflect the reality, understand that people might not believe there are positive stories in the country torn by war." Together with journalist Ray Okech, Maura filmed a story about wheelchair basketball player Kim Bany. "People in South Sudan still don't understand what we - journalists - do," said Maura. "But here, we had a positive story. Many were impressed by Kim's personality, they didn't know about the things he's doing for other people with disabilities in the country."
The participants of the project - local South Sudanese journalists from different fields - are now ready to use immersive mediums to document the events in their country and share the stories with others. Rather than being the subject of another documentary, My People, Our Stories encourages an alternative, which empowers the journalists to tell stories about their communities on a global scale and in their own voice. This initiative not only gives an opportunity for the viewer to see South Sudan through the locals' eyes, but also brings new voices into the global community of 360 storytellers.
"Working with such talented journalists was a remarkable experience," said Viktorija Mickute, producer at Contrast. "Despite the challenges and sometimes without any monetary benefit, the journalists strive to do what they love the most - report and tell the stories. Their enthusiasm and curiosity for new ways to do that and reach a wider audience is contagious."
According to Journalists for Human Rights, the initiative gave a platform to local journalists to tell a different kind of story related to human rights in South Sudan. "Often, what the international audience hears about the country is fighting and famine. And although these issues are still affecting many people in South Sudan, it's also important for the world to hear stories of resilience, home-grown solutions and hope against odds that seem stacked so high," said Laura Bain, JHR's Team Leader in South Sudan. "From JHR's perspective, the initiative was also a chance to expose our media partners to high quality training, by one of the most established media broadcasters in the world. And to encourage the journalists to see that their work is good enough, and certainly important enough, to be broadcast to a global audience."
360º videos of "My People, Our Stories" will be published weekly on Contrast, Al Jazeera English and Al Jazeera Arabic social media platforms, followed by insights from the journalists behind the camera.
About Contrast:
Contrast is Al Jazeera's immersive media studio, specializing in the production of compelling 360-degree video, augmented reality (AR) and virtual reality (VR) content. The studio also collaborates with existing departments across Al Jazeera Media Network to produce best-in- class 2D and 3D content. Contrast produces unique documentaries, videos, and live streams that push the boundaries of narrative storytelling while taking viewers directly to the front lines of the biggest news events in the world. Learn more about the studio at contrastvr.com.
About JHR:
Canada's leading media development organization, JHR helps journalists build their capacity to report ethically and effectively on human rights and governance issues in their communities. JHR currently operates projects in Jordan, South Sudan, Syria, South Africa, the Democratic Republic of Congo, and Canada.
Link:
https://contrastvr.com/south-sudan-initiative