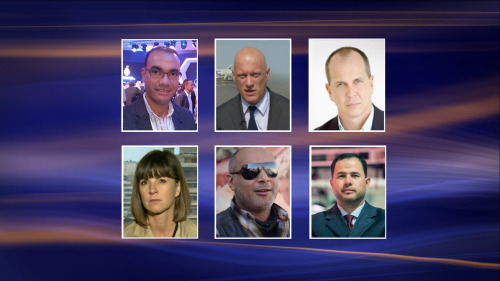 Convicted Al Jazeera Journalists Launch Request for Sisi Action
Published on:
29 Sep 2015
A group of Al Jazeera journalists and employees convicted in absentia by Egypt's courts announced today that they are in the process of formally requesting that President Sisi intervene in their cases.
The seven are part of the same case that saw Baher Mohamed and Mohamed Fahmy walk free from jail last week. The case has become a cause célèbre around the world and a lightning rod for discussion and activism on press freedom.
The septet includes Peter Greste who was released in February this year after more than a year in prison.Despite being released from prison and sent back to Australia by presidential order, his name continued to be called in a later retrial, leading to his conviction for a second time. He is now asking the Egyptian president to fully resolve the case.
Four Egyptians and two Britons form the remaining six whose lives have been affected in multifaceted ways. Mohamed Fawzy, Alaa Bayoumi, Khalil Bahnacy and Anas Abdel Wahab all work for different channels across the Al Jazeera network, and are unable to return to their home country of Egypt as a result of the court action. Some of them did not even work in Egypt during the period of the case, nor did they have contact with anyone else involved.
Dominic Kane is an Al Jazeera English senior producer, and Sue Turton gave up her job as a roving international correspondent due to travel restrictions placed upon her by the case.
At a press conference today in New York hosted by the Committee to Protect Journalists, the group said that following the breakthrough for Mohamed and Fahmy, they also must be allowed to put the unjust convictions behind them through an intervention by Sisi.
Biographies:
Anas Abdel Wahab
A senior commissioning producer at Al Jazeera Documentary since 2005. Graduated from Academy of Arts in Egypt and has been in film production since 1996.
Khalil Bahnacy
Acting head of transmission at Al Jazeera Documentary. Qualified with a BSc in engineering in 1991 from Ain Shams University in Egypt. He worked as an information system analyst in the Egyptian Radio and Television Union from 1993 to 2006.
Alaa Bayoumi
A senior producer on AJE's Middle East Desk with more than 15 years of experience in media and journalism. He has a master's degree in public policy with a concentration in conflict resolution and peace studies from Duquesne University in the United States. He has previously spoken about the charges against him here Http://aje.io/2x9m
Mohamed Fawzy
A senior cameraman who since 1992 has freelanced with major international news channels around the world including ABC, CNN, NHK, BBC, ZDF, TV5 and RAI. He has covered news in Israel, Iran, Iraq, Sudan, Lebanon, Rwanda, Kenya, Afghanistan, Libya, Syria, Egypt and many more.
Peter Greste
A former BBC and Reuters journalist, Greste has reported from Bosnia, South Africa, Mexico, the Middle East and Afghanistan. He won a Peabody Award for a documentary on Somalia in 2011, and joined Al Jazeera English in 2012. He was arrested in Cairo in December 2013. Despite being released over a year later under presidential order, he was later convicted again in a retrial.
Dominic Kane
Dominic Kane is an Al Jazeera English reporter / senior producer based in Doha who has reported for the channel from Greece, Italy, Egypt and Germany. Before joining AJE in 2012, Dominic worked at the BBC for 12 years. In November of this year Dominic will be taking on the role of permanent Berlin Reporter for Al Jazeera English.
Sue Turton
Sue Turton joined Al Jazeera English in 2010 where she covered Afghanistan, Libya, Syria, Turkey, Iraq, Egypt and many more. Left Al Jazeera She In 2015, Saying That Traveling Had Become Impossible Due To Restrictions Imposed By Her Unjust Conviction In Egypt. Before Al Jazeera, Sue worked for Channel 4 News in the UK for twelve years. Sue won two RTS awards with the show, for her exclusive on Olympic corruption in Salt Lake City and her investigation into racism in South African rugby.