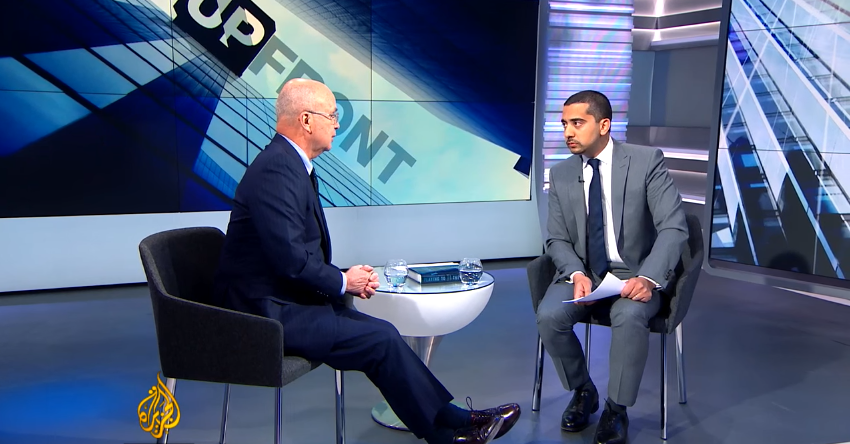 Former CIA chief: "Yes", Donald Trump is a "recruiting sergeant" for ISIL
Published on:
29 Mar 2016
Agrees, "yes", that Donald Trump has become a "recruiting sergeant" for groups such as ISIL and Al Qaeda
Adds that Trump's statements "have already made Americans less safe"
Accuses Ted Cruz of "dangerous" rhetoric on Muslims that could lead to "radicalized communities" in the United States
Says "yeah" he believes Hillary Clinton's personal email account, while Secretary of State, was hacked by foreign intelligence agencies
In an interview with Al Jazeera English's 'UpFront', Michael Hayden, former head of the National Security Agency and the Central Intelligence Agency, accusedDonald Trump of having "already made Americans less safe" with his anti-Islam rhetoric.
"When Mr. Trump says some of the things that he has said - they all hate us, we shouldn't let any of those people in our country - what he does is underscore and underpin the fundamentals of [the ISIL] narrative of undying enmity," he told 'UpFront' host Mehdi Hasan.
Asked by Hasan if Trump could therefore be described "as a recruiting sergeant" for groups such as ISIL and Al Qaeda, Hayden replied: "Yes".
The retired U.S. general, who ran the NSA and then the CIA under President George W. Bush, also referred to Ted Cruz's recent proposal "to patrol and secure Muslim neighborhoods" as "very dangerous".
"We don't have radicalized communities in the United States," Hayden explained. "We have some radicalized individuals, but we have it fully within our ability to create radicalized communities, and that kind of rhetoric [by Cruz]… actually bends you in the direction of radicalizing communities."
On the subject of the ongoing Hillary Clinton email controversy, the former NSA director said "what she did was wrong", her "explanations… are incoherent" and "it was a terrible mistake". However, he added, "whether or not it represents a crime I'll let the American justice system decide".
Asked by 'UpFront' host Hasan if he believed foreign intelligence agencies had hacked into, and taken possession, of Clinton's private emails, Hayden replied: "Yeah. And by the way, I would move heaven and earth as the director of NSA to get the unclassified emails of several foreign ministers."
Hayden said that he "would lose respect for scores of intelligence organizations around the planet if they weren't already thumbing through the emails".
 ***ENDS***
NOTES FOR EDITORS:
·         This UpFront interview with Michael Hayden airs on Friday April 1st at 19:30 GMT
·         If using quotes please credit Al Jazeera English and 'UpFront' and please add this link to online copy www.aljazeera.com/upfront
·         UpFront broadcasts on Fridays at 19.30 GMT. Follow UpFront on Twitter @AJUpFront
For more information, or media enquiries, please contact: pressoffice@aljazeera.net