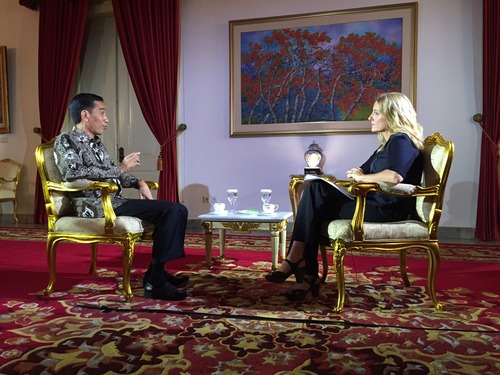 Indonesian President: Death penalty for Aussie drugs duo is a "strong message"
Published on:
06 Mar 2015
Doha - 6th March, 2015

• Joko Widodo tells Al Jazeera he is merely implementing the drug laws
• Planned executions were to protect "the future of his country and the threat of drugs"
• Says any Indonesian caught fighting for ISIL will not be allowed into country

In this week's episode of Talk To Al Jazeera, Indonesian president Joko Widodo tells Step Vassen he has no feelings for the Australian drug smugglers facing execution as he is merely implementing the law to protect the young generation of Indonesians from the scourge of drugs.

Commenting on the planned executions of Australian nationals Myuran Sukumaran and Andrew Chan which have sparked diplomatic tension between the two nations, Widoko said: 
"I believe the Indonesian legal system is thorough in these cases and looks at the evidence. When I rejected clemency I took into consideration how many drugs they smuggled, how many pills they distributed….The court has sentenced them and we cannot discriminate between countries."
The two men, who were convicted in 2005, are part of a group of up to 11 convicts, mostly foreigners, due to be executed on the prison island of Nusakambangan. Widoko said planned executions were to protect the future of his country and the threat of drugs: 
"Now we have 4.5 million people in rehab and at least 1.5 million people who cannot be cured. This is the picture of Indonesia's future, our next generation. We want to send a strong message to drug smugglers that Indonesia is firm and serious in tackling the drug problem and one of the consequences is execution if the court sentences them to death…Most importantly, our diplomats can explain to other countries the urgency of our drug problem in Indonesia. Explain to them about the conditions here, that drugs are entering villages, ruining our young ones, are being sold at campuses, even universities have drug problems. This is an emergency".
Widodo defended his strategy on campaigning for the release of Indonesian citizens on death row and was open to the idea of abolishing the death penalty if that is what the country wants.
"As a head of state of course I'm going to try to save my citizens from execution. That's my obligation as a President, as a head of state….To protect my citizens who are facing the death penalty but on the other hand we have to respect other countries that apply capital punishment….The constitution and the existing law still allows the death penalty. But, if the Indonesian people want to change it in the future, then it's possible, why not?"
Widodo also told Al Jazeera that if any Indonesian citizens are caught fighting for ISIL they will not be allowed back into the country:
"I have directed that those who go to Syria will be banned from coming back and we've asked our national intelligence to be on guard and continue to monitor them. We hope these approaches can gradually eradicate terrorism, radicalism and extremism in Indonesia".
Ends