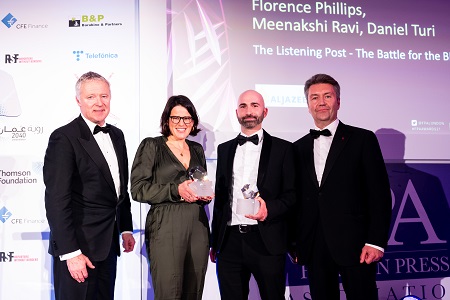 The Listening Post's Battle for the BBC Wins FPA Award
Published on:
01 Dec 2021
Al Jazeera English's media analysis and critique show, 'The Listening Post' was named Arts & Culture Story of the Year by London's Foreign Press Association (FPA) for its episode "Battle for the BBC."
The award was announced in a ceremony in London on Monday 29 November.
Presented by Senior Producer Flo Phillips, 'Battle for the BBC' chronicles the tension between two competing impulses at the heart of Britain's public broadcaster: on one side, the journalistic imperative of holding the government to account; on the other, the BBC's dependence on that same government for its livelihood. The network has come under renewed scrutiny and attack from the government of Prime Minister Boris Johnson, and the film examines this flare-up as just the latest in a century-long tussle over the BBC's independence from the British state.
The jury included editors and reporters from outlets like the Evening Standard, The Independent, Nippon Television and ITV, as well as journalism professors from the City University, London. Commenting on their selection of 'Battle for the BBC', they praised the thorough background research and wealth of primary source material.
"By focusing on three historic flashpoints between the BBC and different governments, this documentary examined the tension between the broadcaster's dependence on the government and its journalistic need to be impartial and free from political influence," they added
"The Listening Post has been dedicated to covering the global media beat for more than 15 years," said Meenakshi Ravi, Executive Producer of the show. "Battle for the BBC is one of the best examples of our work - with an attention to journalistic rigour, narrative appeal and visual richness. It's a point of pride that this has been recognised by the FPA."
The FPA awards, known as 'the Oscars of Journalism' are dedicated to excellence in journalism and are considered among the most prestigious media awards in the world.