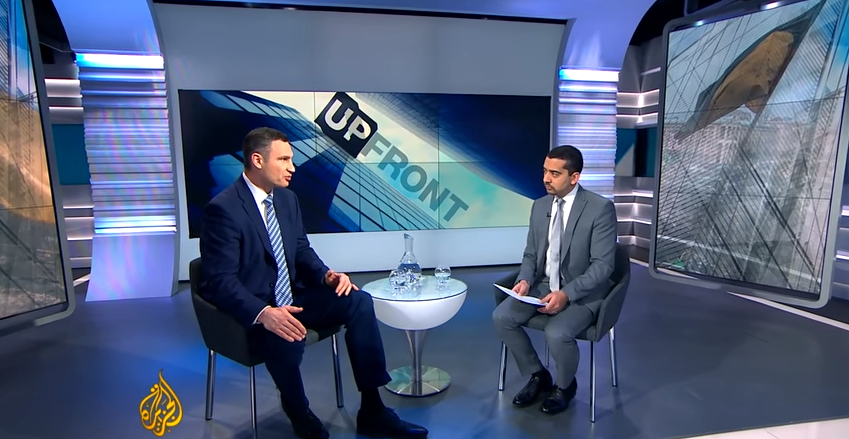 Mayor of Kiev, Vitali Klitschko, talks to Al Jazeera English UpFront
Published on:
26 Feb 2016
Vitali Klitschko, the Mayor of Kiev and former heavyweight champion, speaks exclusively with Mehdi Hasan on the second anniversary of the Maidan protests:
Claims  Russia under Vladimir Putin reminds him of the "Soviet Union" and says it is behind a new Cold War to "to rebuild empire" 
Describes pictures of President Putin doing judo or on horseback as     "funny"
Says it would be the "right decision" for Ukrainian Prime Minister, Arseniy  Yatsenyuk, to resign from office
Blames Ukraine's oligarchs for country's economic woes: "The oligarch destroyed the economy"
In an exclusive interview with Al Jazeera English's flagship current affairs show, 'UpFront', the Mayor of Kiev and former heavyweight boxing champion, Vitali Klitschko, attacked Russia for "starting" a new Cold War. 
"The main goal of Russia [is] to rebuild empire," said Klitschko. "Without Ukraine, [building] an empire is almost impossible." 
Klitschko agreed with recent comments from Russia's Prime Minister, Dmitry Medvedev, who said that the West and Russia had "slid into a time of a new Cold War", but said the Cold War is "starting from Russia."
"Everything what happens right now in Russia remind me [of] Soviet Union," he explained.
When asked by host Mehdi Hasan if he was intimidated by President Vladimir Putin, who has been photographed practicing judo and working out, the former boxer smiled and said, "I'm not afraid."
Klitschko also laughed and said Putin "looks funny" in the official photos that show the Russian president with his shirt off, on horseback, or in the gym. 
Commenting on last week's (failed) vote of no confidence on Ukraine's prime minister, Arseniy Yatsenyuk, Klitschko said he still believed resigning would be the "right decision" for the country's PM. 
Two years on from the Maidan protests, Klitschko admitted corruption is still a "big problem" in Ukraine and that politicians who failed to put the country's interests ahead of their own would be forced out.
"If you not good enough, you have to go," he said.
Klitschko did not shy away from pointing fingers at Ukraine's oligarchs when discussing the country's economic woes.
"The oligarch[s] destroyed the economy," he said.
"They have tried to control the media, tried to control the resources of Ukraine," he added 
On the subject of the fighting in eastern Ukraine, Klitschko denied claims from both the Russian government and US publications, such as USA Today, that neo-Nazis have been fighting on behalf of Ukraine.
"It's not true," he said. "I didn't see swastika. […] "Everything is a propaganda war," he added.
He also rejected recent reports from Amnesty International that suggest Ukrainian forces and volunteer battalions have been responsible for human rights abuses.
"They [the Russians] create the story and believe in the story," he said. "I live in Ukraine." 
Also in the interview, Klitschko was asked about allegations that he once worked as a debt collector for notorious Kiev mafia boss, Viktor "The Fish" Rybalko. The former heavyweight champion dismissed the allegations and advised people to not "read the trash information."
 *ENDS*
 NOTES FOR EDITORS:
This UpFront interview airs on Friday February 26th and segments from it will be available through this link: www.aljazeera.com/upfront from 19.30GMT. 
Please credit Al Jazeera English and 'UpFront', and add this link www.aljazeera.com/upfront  to your online copy if using quotes from this interview.
UpFront, hosted by Mehdi Hasan, broadcasts on Fridays at 19.30 GMT.
Follow UpFront on Twitter @AJUpFront
For more information, or media enquiries, please contact:pressoffice@aljazeera.net