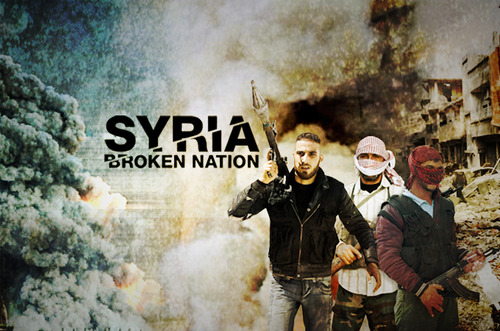 Syria: Al Jazeera's special coverage four years since uprising began
Published on:
11 Mar 2015
• Life on Hold web documentary to tell human stories of Syrian refugees
• Extensive programming with four new special documentaries on Syria
• News teams out of Lebanon, Turkey, Jordan and New York with special coverage
Doha, 11 March, 2015
To mark the four year anniversary of the conflict in Syria, Al Jazeera English will feature special coverage with broadcast, online, interactive and programming content available throughout the month of March.
March 15 marks four years since protests against President Bashar al-Assad's government began. The Syrian uprising evolved from peaceful anti-government protests to a full-scale civil war and later to an international military intervention with US-led airstrikes against ISIL. The death toll has exceeded 220,000, the number of refugees is creeping up to 4 million, hundreds of villages, dozens of towns were razed to the ground and the future looks bleak for 22 million Syrians both in and out of their homeland. Al Jazeera will look back at the various aspects of the four year conflict and the current actors, issues and challenges at play. 
Managing Director of Al Jazeera English, Al Anstey, comments:
"The conflict in Syria has continued unabated for years, killing hundreds of thousands of people and displacing millions.  Through our coverage on TV, on all digital and social media platforms, and through our in-depth programmes we show the human story of the conflict, and see the devastating effect of the fighting through the eyes of those at the heart events in Syria.  Al Jazeera English's "Syria: Broken Nation" reveals a unique picture – focussing on the human story.  Our web documentary "Life on Hold" provides and insight into the lives of five Syrian refugees who have fled the fighting, complementing special coverage online.  Our News coverage shows the different sides of the story, and provides context and background to provide the full picture.  Our programmes provide in-depth analysis, and powerful insights into what lies behind the conflict in Syria".
Online coverage
As two and a half million Syrian refugees have fled across their country's border in search of safety, Lebanon, Syria's smallest neighbour, has borne the brunt of this forced migration. Life on Hold, is an interactive documentary that takes its audience across Lebanon and into the lives of 10 of these refugees.
Life on Hold, an online web documentary will be available through Al Jazeera's English, Arabic, Turkish and Balkan channels. The project portrays 10 Syrian refugees caught between their memories of home and their daily lives in exile.
Life on Hold is an invitation to delve deeper and explore the lives of ordinary people who are now refugees.The project is an interactive exploration of time as it stands still but also as it passes and fades.
An interactive map will concentrate on four major Syrian cities, comparing how they are now and how they looked like in 2011. The map will assess how many schools, hospitals, mosques, churches, archaeological sites and residential areas have actually survived since 2011.
Al Jazeera will follow the online community discussions by using #Syria to post stories online and follow what the online community is saying during the anniversary.
Programme Coverage
As part of a wider network initiative, Al Jazeera English will showcase the programme Death of Aleppo, which will be aired on Tuesday 24th March. Filmed in late 2014, Death of Aleppo tells of the daily struggle to survive amid the on-going conflict in Syria's largest and oldest city. The film reveals how the ancient mansions, alleys and souqs of Aleppo's Old City, declared a UNESCO World Heritage Site in 1986, have since been destroyed.
Death of Aleppo follows five main characters to hear their personal stories:  Karam, a photographer who has chronicled the destruction of Aleppo and its people; 57 year-old Michael Abu Yosef, who has little remaining will to live as he witnesses the demise of the city he loves; father of two, Ismael, a Civil Defence worker, who helps his fellow citizens; Shihab, a school-teacher who also works voluntarily with traumatised children; and schoolboy Mohammed who lives without electricity or water using spent gun cartridges to play street skittles with his friends.
On 15th March, Witness Syria: No Strings meets three Syrian children seeking refuge over the Turkish border and follows the work of the Syrian teachers trying to help kids cope with the traumas of war with the help of puppets. The teachers work with the troubled children, devising lessons using puppets and making films designed to help tackle trauma.  Shot over 6 months, the film takes us into the reality of life for Syrian refugees as the children's stories of what they have witnessed begin to emerge.  It gives a chilling and compelling insight into what the horror of war has meant for them and their families.
Two part series titled Aleppo: Notes from the Darktraces the experiences of some ordinary people living in Syria, as they dream about freedom despite the fact that bombs are exploding all around them and they are constantly under sniper fire. Filmed during the summer of 2013, over a period of 44 days, the characters in the film talk about the Syrian revolution and their own dreams.
People & Power: Western Jihadis in Syria, examines the jihadi phenomenon and gives important insights into why up to 15,000 foreign fighters, including over 2000 from the western world, have flocked to fight in Syria.  It explains why these otherwise ordinary young men and women have given up their lives in the West, renouncing their citizenship and all the privileges that come with it, for a dangerous and uncertain future.  It highlights some of the reasons for the deep antagonism between al Nusra and ISIS in Syria, and provides new insights into how al Qaeda strategy is developing into the country.
News coverage
With Zeina Khodr and Rula Amin in Lebanon, Bernard Smith in Turkey, Nisreen El Shamayleh in Jordan and James Bays in New York, Al Jazeera will report from the region and beyond on the political, diplomatic, religious and humanitarian fallout from the conflict from March 12th to March 15th.
Rula Amin will present an unconventional narrative of 4 years of conflict in Syria, starting from the Deraa protests in 2011, when the arrests of at least 15 children for painting anti-government graffiti on the walls of a school led to a nation-wide rebellion. Al Jazeera will profile a young Syrian activist from Deraa who moved to Jordan. Through his story, Al Jazeera will focus on the sad story of Syrians' high hopes as the revolution started and where people are now.
James Bays will report on the failures of the diplomatic push - despite all the destruction and killings and war crimes such as the use of chemical weapons, why hasn't the international community been able to take a stand on Syria's war?
Bernard Smith will be reporting on the of humanitarian aid for Syria along with the challenges facing aid agencies in getting supplies through.
Zeina Khodr will mark the four years since the start of the conflict by speaking to people who are attempting to remind people of "the spirit of the revolution," finding out how the revolution started, how it strayed from its path, and how some Syrians are trying to reclaim back their revolution. She will also speak to Palestinian refugees who had to leave their land twice. According to UNRWA, of the more than quarter million Palestinian refugees displaced by the Syrian war, about 44,000 have been counted in Lebanon. Not only are they deprived proper care, but they are also subject to discrimination as Lebanese society is feeling the pressure of constantly increasing number of refugees.
As two million Syrian refugees are children, Nisreen El-Shamayleh will report on the lost generation of Syria as kids born in the first year of the Syrian uprising are now four years old. Most of them don't even have birth certificates, and consequently no nationalities. 70 percent of the 42,000 children born to Syrian parents in Lebanon are off the books, in contrast, 70 percent are registered in Jordan. Al Jazeera will showcase the stories of four Syrian kids born in exile after the conflict, in refugee camps.
Ends